Didik nini thowok dance quotes
LOG IN
For renowned dancer and choreographer Didik Nini Thowok, cross-dressing performances are not just about wearing clothes associated with the opposite sex, complete with make-up and mannerisms.
After the lights dimmed, a middle aged man, donning a greenjarik (traditional Javanese cloth) and blackkemben (breast cloth), walked onto the stage of Galeri Indonesia Kaya at Grand Indonesia shopping mall in Jakarta.
Looking pretty with a bright red lips and wearing a hugekonde (traditional hairpiece), he danced gracefully with a red shawl to gamelan music.
The spectators clapped and cheered every time he shook his slim hips. He then approached the audience and threw his shawl around a man's neck, an invitation to dance with him on the stage. The auditorium filled with laughter as they danced together.
Didik performed thelengger senggot dance, which originally comes from Banyumas, Central Java, in a show titledDua Wajah: Tradisi Peran di Istana dan Masyarakat (Two Faces: Roles of Tradition in the Palace and Society).
"This is the first time I danced thelengger senggot in Indonesia since my performance at Yale University in the United States in 2012, "he said.
He went on to present his masterpiece, thedwimuka jali dance. Dwimuka, which means two faces, represents Didik's own face and a mask that he wears on the back of his head.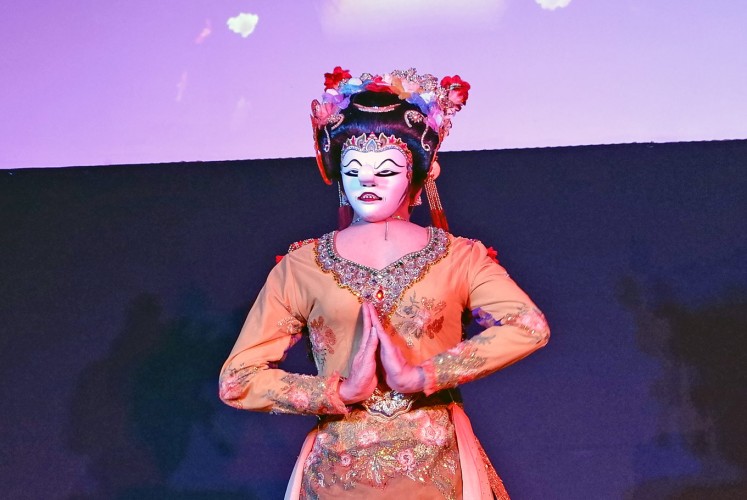 My other face: Didik wears a Dewi Sarak Jodag mask on the back of his head during his dwimuka jali dance performance. (JP / A. Kurniawan Ulung)
Jali, an abbreviation of Java and Bali, signifies two dances that he performed - the Balinese dancelegong and a Javanese dance centering on the myth of Dewi Sarak Jodag who turns herself into an ugly woman after Raden Panji rejected her love.
When Didik faced the audience, he danced thelegong wearing a Balinese dance costume in the front. But, not long after that, he turned his back and performed the Javanese dance, complete with a Javanese dance costume and Sarak Jodag mask.
Didik, 64, who hails from Temanggung, Central Java, performed a total of seven dances during the show. He is not young anymore, but his one-hour performance proves that age is just a number.
"Dancing is my way to preserve the traditions of our ancestors," Didik said.
"As a tradition, cross-dressing dances have been around for a long time, but not many young people are interested in learning it," Didik said, adding that he hoped his performance would encourage the young generation to become performers.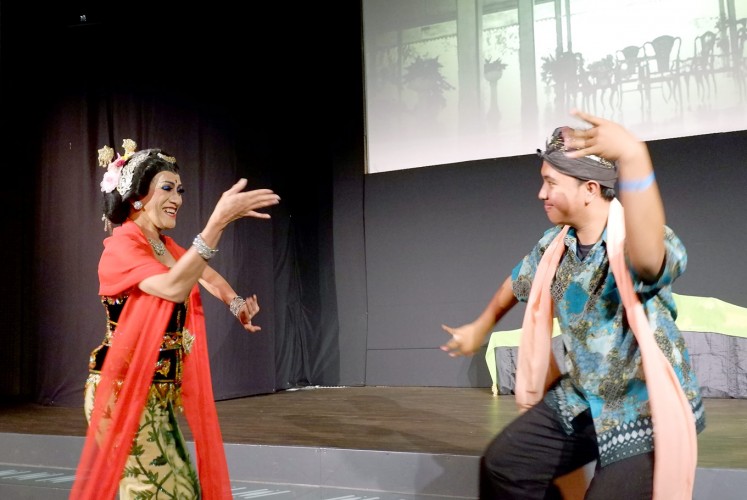 Sway with me: Didik (left) performs lengger senggot with a member of the audience. Despite its feminine characteristics, the dance has been performed by men in Banyumas, Central Java, since the 18th century. (JP / A. Kurniawan Ulung)
He said cross-dressing dances had been part of the country's culture and tradition for centuries, but many people still resented it.
It irritates Didik when people link the dance to the lesbian, gay, bisexual and transgender (LGBT) community.
"I just want to tell people that dress-crossing performances are not something new in Indonesia. They have a very long history in our beloved country, "he said. "So, please don't say anything negative about men dancing in women's clothes."
Thelonger dance, for instance, is recorded inSerat Centhini, a 12-volume work on Javanese life written in the 18th century.
Lengger consists of the wordsling (a hole which represents female genitalia) andyounger (a rooster's comb which symbolizes masculinity).
"It is calledlonger because the dancers are men, but spectators mistakenly think that they are women because when they are performing they dress like women and look very pretty, "he said.
In Banyumas, men usually perform thelonger at rituals because they do not menstruate.
"There is a village in Banyumas that forbids women from dancing thelongerbecause a disaster always happens when they perform it, "Didik said.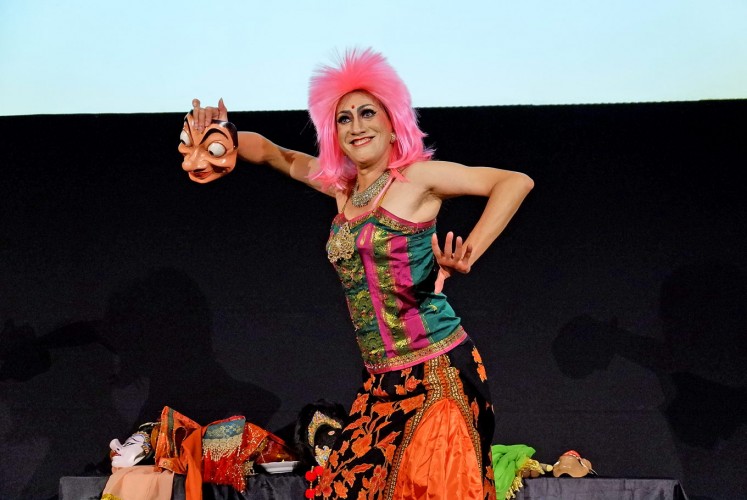 Eccentric: Didik strikes a pose with a Mr. Bean mask after his solo dance show, Dua Wajah: Tradisi Peran di Istana dan Masyarakat (Two Faces: Roles Tradition in the Palace and Society), which places a spotlight on cross-dressing dance culture in Indonesia. (JP / A. Kurniawan Ulung)
During the show, Didik also performed thegolek lambangsari, a dance about a girl's coming of age that was only performed by male dancers in the 19th century. He explained that during that era, women would get a bad reputation if they performed it in public. They were finally allowed to dance it in the 20th century.
In 1987, Didik created thedwimuka dance to highlight the cultural relationship between Java and Bali.
"I created it to describe the dualism in human beings, such as good and bad, strong and weak, masculine and feminine," he said. "That creates the balance in life. Actually, everybody has these two sides. "
In 1999, the Yogyakarta-based Indonesian Art Institute (ISI) graduate came up with a new version of the dance titleddwimuka jepindo, which is aimed at strengthening the friendship between Japan and Indonesia.
Just like in Indonesia, cross-dressing performances have strong roots in Japan, where male actors play women's roles in Kabuki theaters.