How to update the ibasso dx50 firmware
Hidizs AP200
Pros: • compact design
• features
• clean sound
• Really good performance with very sensitive IEMs
• Good UI and Hiby Player (although without track counter on playback screen)
• responsiveness
Cons: • Output impedance on the high side for in-ears that don't have a flat impedance response
• promised USB DAC output feature doesn't work well yet; promised update deadlines weren't met
• As some other streaming DACs, there can be some occasional 2.4 GHz WiFi interference noise, depending on your environment
This review was prepared, written and mostly finished several months ago, but there were delays. But here it is now:
Working title: "Der Anti-AP60" / "Ziegenpeter" / "Fräulein Rottenmeier"

Prolog:

Hello everyone! / Hello everyone! / Hidizs, Hidizs, / your world is music. / Hidizs, Hidizs, / because you also play them from the cloud. / Bluetooth, Wi-Fi / and two ESS SABER chips, / Hidizs, Hidizs, / you are now offering to us.

"Hidizs" is the touching story of a young digital audio player who is brought by his aunt DT (1350 Pro) to a hi-fi-loving hermit, with whom he is to live from now on. There he met Peter Herbolzheimer, among others, who had to tend the catfish, and made friends with him.
But one day Aunt DT (1350 Pro) brings the Hidizs to HiFiMan in Frankfurt, where, among other things, he and HiFiMan's physically restricted daughter RE2000 should learn to connect to the Internet and Bluetooth devices, which ultimately leads to a good friendship ...

- - -

Anyway ...
I was contacted and asked if I would like to test and review the AP200. Yes, why not? Although I was almost always ignored by Hidiz, which I have definitely not or will not forget, I agreed because I found the AP200 to be optically very appealing and I still do.


This English-language review clarifies whether the AP200 is just as suboptimal as a full-fledged standalone audio player as the AP60, which was reviewed a long time ago. Unfortunately, some of the technical data indicate this - but the AP200 should be miles ahead of the AP60 in terms of operation. It also has more functions (e.g. Android and Wi-Fi). Accordingly, the AP200 streaming player could actually (very well) be suitable as a compact, digital source device for connection to an external DAC, or as a digital audio player for uncritical in-ears and headset headphones.

May I help you:


Introduction:
Honest words: Personally, I think that the original Hidizs AP60 sucks, even for a clearly budget-oriented device. There are cheaper audio players with clearly superior unloaded and loaded audio performance and measurements than it, its navigation and operation with the touch button control is quite useless and imprecise, especially on the go, and it only really serves a purpose as a digital source for aptX Bluetooth streaming and as a digital transport source for an external USB DAC (this is what it really does well though). Yes, those are the only two scenarios where it makes sense as a product, and fails in most others if you have standards that are higher than a monkey's or those of non-audio people.
Anyway: The Hidizs AP200 on the other hand appears to be
so much
more promising - judged by its audio specs, probably not as
the
ideal standalone music player for super sensitive multi-BA in-ears with an uneven impedance response, but certainly as a proper source for most full-sized headphones or dynamic driver in-ears with a lesser impedance swing, and as a great digital music and Wi-Fi as well as aptX Bluetooth streaming source for wireless headphones / in-ears and external DACs. Yes, this is a scenario where the compact and reasonably priced as well as feature-packed (dual ES9118C SABER DACs, Wi-Fi, hi-res IPS touchscreen, aptX Bluetooth streamer and receiver, digital USB output and input, ...) AP200 could turn out to be a good choice.
Want it?

Full disclosure:
I was contacted by Hidizs regarding the opportunity to receive a free sample of the AP200 for the purpose of honest testing and a review. I agreed and then received a sample at no cost, without any other obligations or requirements.
Specifications:
Price: from $ 299
Source: http://www.hidizs.com/product_ap200.php
Unboxing & Delivery Content:

The black cardboard box the player arrives in is quite plain and standard.
Inside, one will find the player with a screen protector for the back and front already applied, a plastic bag with some spare screen protectors, a USB cable for PC data connection and charging, a USB cable for DAC connection, and last but not least a plastic protection case.


Design, Feels & Build Quality:

The AP200 is available with different designs / finishes and amount of internal memory. I received the black version with 32 GB of built-in memory.
What makes the AP200 probably more interesting than a modern smartphone as a streaming source is that it is more compact and outdoor- / on-the-go-friendly than those, and that it has got more volume steps and a superior hiss performance than most (more on that later).
The brushed, CNC-milled chassis looks elegant and clean, and one can definitely see Hidizs' new design language that started with the AP60 being continued with the AP200, however the AP200 has got the massive advantage of utilizing a real touch screen unlike the AP60 that uses tiny touch buttons for navigation.
Yep, it's a still rather compact, well-built, quite beautifully designed digital audio player.
Not really big criticism, but since the back panel consists of glass as well, it is quite a fingerprint and dust magnet. And I'm personally not really a fan of the included protective plastic case, even though it works just the way it should.
Speaking of included accessories, it is nice to see an OTG cable to use the player with an external DAC bundled, however it's not so nice that that very cable is really not as flexible as it could or should be for portable stacking use - but it is still better than no included cable.
Anyway, the AP200 has got four buttons - an on / off button located at the top, a circular play / pause button located at the left side, and also two volume buttons (that also act as skipping buttons) on the left side as well .
At the bottom, we can find a 3.5 mm headphone output, one micro SD slot, and last but not least a USB-C socket. Just like the iBasso DX90, the AP 200 lacks a balanced headphone output despite having a balanced dual-mono internal audio circuit implementation (personally, I don't mind it though and also don't need it). It doesn't have any line or digital outputs either, except for a digital USB output to use it with an external DAC, and this socket also serves as a USB input to use the Hidizs as a USB DAC on a PC.


The Screen:

The IPS touchscreen measures 3.54 inches with a resolution of 960 x 640 pixels (325 ppi). Thanks to this, images are crisp and viewing angles are stable, however please don't expect the maximum brightness to be really bright since it just isn't.
Color reproduction and contrast are good, but not fully on the same level the best currently available devices although they come nicely close. It's good to see though that they didn't go for an oversaturated, over-sharpened screen with extreme contrast settings, and colors are just slightly on the warmer side.
Since it is a multi-touch touchscreen, it also recognizes multi-touch gestures if supported by the app. The responsiveness of touch inputs is very good and without any delay.


Volume Control:

Volume is controlled via the two buttons on the left side or through the touchscreen once you have pressed one of the two buttons. Quick volume attenuation can then be done by swiping from the top to the bottom of the screen (or vice versa) once that popup shows up.
There are two gain settings and 100 system-wide volume steps in Android and pure music mode, which I find somewhat too few given that the DAC allows for 256 steps that would give you even more precision when trying to find the right volume setting without having the feeling that an additional step between two steps would be required for that. However, which is good, listening at very quiet levels is still possible with extremely sensitive in-ears.
What's quite neat though is that the AP200 supports in-line remote control commands (well, play / pause at least, but volume button commands don't seem to be supported).
What is a bit annoying though is that a fast double-click of the volume buttons skips the track.


Operation, user interface:

The AP200, just like the iBasso DX200, is a player that actually comes with two operating systems - Android 5 and Hidiz's pure music mode firmware. Well, this isn't entirely true since the latter isn't really a separate operating system on the Hidizs but basically just the stock Hiby player app being made sticky. It can be accessed through the drop-down notifications menu.
Android OS, player firmware version "0.2.2Beta":

The AP200 is running on Android 5 OS, so you don't get an old looking or outdated system but a still modern one that is also up-to-date for most recent apps.
And what is great is that Hidizs has kept the Android system quite stock with just a few audio-related changes being made to the drop-down notifications menu, and what's really great as well, or let's face it, even greater, is that the AP200 comes with the Google Play Store, so you can easily download all Android apps that you are familiar with and can of course also easily install and use third-party music player apps. Great!
The stock player app is a Hidizs-customized version of the Hiby player, and its interface is modern and quite intuitive.
There are basically three screens - the settings, the library and the music playback screen. In the settings, one can use the AP200 as a network streamer, enable a 10-band EQ or change the DSD and folder playback settings. The other audio settings such as the gain and audio filters can be accessed through the drop-down notifications menu.
The music library contains categories such as "All", "Album", "Playlist", "Artist", "Folder", "Genre" and also network folders. It has also got a proper on-screen keyboard search feature that I think is mandatory to have on a modern audio device.
The music playback screen is quite simple - it shows a large album artwork, title and artist information, the sampling rate, and other playback information such as the time and a button to change the playback mode and another one to add the currently played file to a playlist. There are also virtual play / pause / skip buttons.
Other than that, the normal Android status bar with the battery percentage, time and volume info is displayed as well. Tapping on the album artwork, one can display the track lyrics (if available and stored in the music file).
What I'm missing, however, is a track counter.
Pure Music Mode, Player Firmware Version "0.2.2Beta":

Pure Music Mode is actually no dedicated OS but the Hidizs-customized Hiby player App being made sticky. It really is the same, and I honestly don't really see the point of it.
- - -
Overall the firmware is also pretty stable, without any playback errors so far and only occasional crashes and random reboots when connecting external DACs to the AP200 or when opening third-party apps - so this is a thing that could and should be improved and fixed in the near future, since even though this behavior is occasional, it can be annoying if it happens and you have to wait for the player to reboot.


Performance:

Built into the AP200 is a quad-core CPU (Cortex A9, 1.4 GHz) with 1 GB of RAM. It is plenty fast (scanning the music library only takes little time, animations are fluid, responsiveness is good, opening and closing apps works fast and fluently, too), and booting takes approx. 32 seconds.
WiFi signal strength is good as well and comparable to my Asus Google Nexus 7 (2nd generation) and Acer laptop. WiFi speed is somewhat slower on the Hidizs though.
The only downside is that the AP200 "only" supports 802.11 b / g / n 2.4 GHz WiFi, and just like the DX200 in 2.4 GHz WiFi mode, the AP200 might occasionally output some WiFi interference through the headphone output into sensitive headphones / in- ears if some other WiFi sources are close to it, which is a bit sad. This also seems to depend on the location and environment, since I get that interference with all digital audio players with WiFi (apart from my Apple iPhone 4) on my 2.4 GHz router. (So ​​yeah, smartphone manufacturers get this right while apparently many digital streaming audio players exhibit noise when connected to a 2.4 GHz network.)
- - -
To test the CPU performance further, I ran a CPU benchmark tests (Geekbench) on it and compared it to my Nexus 7, a tablet computer that is still more than plenty quick, fluent and doesn't really struggle with anything.
Device:
Asus Nexus 7 (2nd generation)
iBasso DX200
Hidizs AP200
Single-core benchmark:
653
405
495
Multi-core benchmark:
1679
1847
1020
I think the result speaks for itself and shows that hardware-wise, the AP200 is a potent and capable device that should not struggle with running any supported music app and apps in general.


Battery Life:

Ultimately, the battery life will of course depend on how one is using the AP200 (headphones, volume setting, file type, WiFi, Bluetooth, ...). Since it has so many features, the battery life you can get might be shorter or longer than what I got in my non-representative test that I did to see how much battery life I could get when mainly playing FLAC files and streaming some music for around 90 minutes while occasionally unlocking the screen and navigating through the menus.
Using the inexpensive Superlux HD668B as a load at volume 50 out of 100 (low gain), I was able to get almost 8 hours and 30 minutes from the AP200 under these test just-mentioned environment conditions (Hidizs claim around 8 to 10 hours, so I can definitely back this up now. Without using WiFi, coming closer to 10 hours is definitely possible).


Sound:
Frequency Response, Output Impedance:

One of the most basic and fundamental things an audio player should have is a flat unloaded frequency response in the important range of 20 to 20000 Hz. While it is anything but sorcery to achieve this in modern days, some (however mainly inexpensive and rather no -name) audio players still fail to achieve this basic thing.
Let's see how the AP200 performs in this regard (measured with Digital Filter # 1):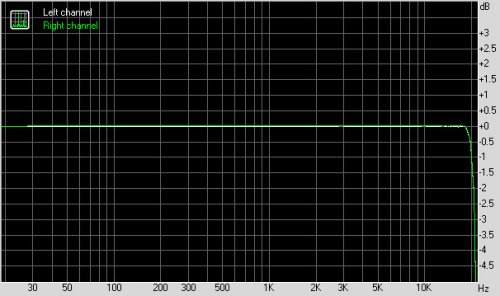 As it could be expected and unlike the AP60, the raw and unloaded frequency response of the AP200 is perfectly flat and therefore just the way it should be.
- - -
Even when having a flat frequency response without load or with a simple load (such as a headphone that has got the same impedance over its entire frequency response), things are getting much more difficult with most multi-driver in-ears that have got more Than just one driver and a crossover circuit that causes the in-ears' resistance to vary along with their frequency response.
If the audio player's headphone output doesn't have a low output impedance, the in-ears 'frequency response and therefore heard tonality will be skewed and they will (depending on the player's output impedance and the in-ears' specific impedance response) sound More or less different than when driven by an audio player that has got a low output impedance.
To maintain an unaltered sound even with low impedance multi-driver in-ears, it is therefore best to have an audio player that has got an output impedance of less than 1 Ohm.
This is what the AP200 puts out when connecting a critical, low impedance, multi-driver in-ear to its single-ended output:
The connected load was my Ultimate Ears Triple.Fi 10, an in-ear that is among the most source-picky species of its kind and changes its sound rapidly as the player's output impedance climbs.
The measured deviation when connected to the AP200 can be calculated to be slightly below around 7 Ohms (the officially claimed value is approx. 4.8 Ohms), which is unfortunately very plausible given that the actual output impedance of the AP60 was also already higher than the claimed spec.
So unfortunately the AP200 is not multi-BA in-ear-friendly and would audibly change the sound signature of such in-ears that don't have a ruler-flat impedance response. Pity.
Therefore this is a digital audio player for (most) dynamic driver in-ears and higher-impedance full-sized headphones (or lower-impedance full-sized headphones if their impedance response is flat).

The 7 Digital Filters:

The AP200's ES9118C DACs have 7 digital filters incorporated that the user can choose from.
What digital filters mainly do is shaping the upper end of the frequency response as well as the impulse response, which could be perceived in a subtle difference in the treble and soundstage reproduction but is inaudible in most cases as long as the filter does not affect the upper frequency range by too much.
I will definitely not go into detail about what the filters do exactly and how this affects the frequency response as well as pre- and post-ringing of a signal since this would just exceed the frame of the review (that is probably overly long anyway) by a bit too much and because there are a couple of informative websites and contributions about this topic on the internet. So instead, I will show you how the filters affect the frequency response from 20 to ~ 18.5 kHz (because this is the range where my soundcard's input response measures flat). After that, I will briefly describe what differences I can hear, what I cannot hear and how distinct I find the effect.
So here are the 7 filters:
Filter # 1 is the one that is the most commonly used in audio applications and selected as standard. All of the other filters interestingly measure identically from 20 to 20000 Hz when it comes to pure frequency response.All of the other RMAA measurements apart from the stereo crosstalk are also basically similar between the filters # 2 to # 7. I couldn't / didn't measure the impulse response, which is the area where the various filters would differ.
The question is - do these filters really have a greater audible effect that is not caused by psychoacoustics? The answer is clearly no - the effect of the filters, is in fact at best very subtle for our ears.
However there is indeed a slight, subtle difference between the filters when especially looking for it doing critical listening - to my ears, this difference is only in the way the note attack in the treble is presented. While the frequency response difference between filter # 1 and the rest is too little and happening too high to be relevant or audible, filter # 1 and # 6 have the "sharpest" treble attack to my ears. The other filters are slightly "softer" than it, with # 2, # 3 and # 4 sounding similar and # 5 being even a tad "softer". # 7 sounds a tad "smeared" in the treble attack to my ears.
But again, those are just tiny nuances and very, very subtle at best, and I definitely wouldn't bet any money on discerning them in a blind test, because I would definitely fail. Just don't think too much about the filters and leave the setting at filter # 1 at best. And by the way, no or only very subtle audible differences between the different filters are completely normal and the way it should be - hearing greater, easily reproducible differences would lead to the conclusion that the filter implementation (that is supposed to be mostly outside of the audible range) is done poorly.

Hoist:

I consider myself as someone who is rather sensitive to hearing hiss and have also got some very sensitive in-ears (for example the Shure SE846 and Ostry KC06A that are among the most hiss-revealing models on the market). So with the right in-ear, I hear hiss to a varying degree with about any digital audio player (in fact out of the players I own, have on hand and have heard, only the Cowon Plenue 2, iBasso DX90, Luxury & Precision L3 and Luxury & Precision L3 Pro are basically hiss-free, however the latter two do not have the most ideal output impedance for multi-driver in-ears and those with a varying impedance response).
Using the AP200 with the super sensitive Ostry KC06A (because my multi-BA in-ears 'sound would be affected by the Hidizs' high output impedance), I am surprised and very happy to say that the amount of hiss that I am hearing with an empty audio file and in quiet passages of the music is very low and rather close to being not present / inaudible wherefore it is little enough to be rather irrelevant.
No, ultimately the AP200 isn't 100% hiss-free, unlike the DX90 and Plenue 2 that really have that hiss-free, * cough cough * "black background". But it hisses way less than the majority of other audio players on the market, and also considerably less than the quite hissy AP60. Good job, Hidizs.
Subjective Perception of Transparency, Precision & Soundstage:

Now to the rather subjective part of my review. My opinion and experience concerning the perceived "character" and "transparency" of source devices and amplifiers is as follows: there can be an existing audible difference between various devices, but it should definitely not be overrated - simply because the basic character of a headphone won't be completely changed (if the circuit follows a clean design philosophy and the output is load-stable), but sometimes rather slightly "shaped" and is usually very subtle in many cases, and is (in most cases) just slightly present (if even there) and not "huge" or like "totally different classes" or "night and day" (modern and linear measuring audio gear are no effing music instruments, for eff's sake!).
I am not a fan of exaggerations and hyperboles here because as long as the objectifyable parameters of an audio player are neutral and not too shabby (loaded frequency response, distortion, crosstalk, dynamic range, noise, ...), the audible difference, if there is any, will be quite small at best if two devices are compared with proper volume matching that cannot be done by ear but only with instruments, since even small differences in loudness can be perceived as a technical advantage by our ear and brain.
So let's go on with my subjective impressions and observations (for this critical listening, I mainly used my Sennheiser IE 800 and Audeze LCD-X as well as the Ostry KC06A and HiFiMan RE2000):
It is often said that SABER DACs tend to have some glare and tend to "aggressiveness". While it ultimately comes down to the entire implementation of the audio-related components, I would also back this up for
some
devices - to my ears, besides the audible hiss the HiFime 9018d has, it sounds just like my iBasso DX90 to me, which could be characterized as sounding and measuring neutral but somehow having some kind of "aggressiveness" and "speed" when it comes to treble attack. This is even more present to me with the Zorloo ZuperDAC-S that, while measuring neutral and flat as well, gives me the impression of a somewhat "aggressive", "speedy" and "accelerated" treble attack using in-ears.
Then there is the Chord Electronics Mojo that seems to render cymbals "unaggressively" and appears to "take away an edge", somewhat just like the iBasso DX80 that surprisingly also keeps this slight character over its line out unlike most other audio players that sound entirely identical to me when having their line out connected to an external headphone amplifier.
To my ears, the AP200 falls rather into the first category and reproduces a slightly "crisper" treble attack that people often seem to associate with SABER chips.
The signal output is clean thanks to the good hiss performance, and therefore the AP200 also sounds nicely transparent. While I had several sound-related things to criticize about the AP60, there is none of that with the AP200 - it is a clean, transparent sounding digital audio player with a bit of that "SABER-crispness / glare", and its only flaw is its high output impedance.
Sometimes audio players seem to have a slightly soft bass with very sensitive in-ears that perhaps might be caused by some hissing in the lower frequencies. This is also nothing I can hear when using sensitive in-ears or planar magnetic headphones together with the AP200 - just a tight and controlled attack in the lows, the way it should be, is what I can hear.
While I usually cannot really hear a reproducible difference in terms of soundstage reproduction among various audio sources when using full-sized headphones, there can be a slight difference to my ears when using sensitive in-ears with a three-dimensional soundstage on various sources ( that have an output impedance that is low enough so it doesn't change the in-ears' frequency response).
To my ears, just like the iBasso DX90, the AP200 creates a somewhat wider than "average" (eg iPhone 4, FiiO X3 first generation, iPod Nano 7G & 6G, iBasso DX50, Cowon Plenue M2, Chord Mojo) soundstage, with a More elliptical than circular presentation, similar to just-mentioned DX90 and HiFime 9018d.
Keep in mind though that these differences mentioned above are actually very small in quantity when comparing two or more audio devices with proper volume-matching.
- - -
So in terms of sound, the AP200 delivers just what I expect from a good audio player (clean, transparent, tight, neutral measuring, good hiss performance). Thumbs up. Solely the high output impedance is sort of a show-stopper for multi-BA in-ears, which is a real pity - if the AP200 was as poor in terms of sound as the AP60, I wouldn't mind and say that it's designed and intended as a digital transport source; However the AP200 is really good when it comes to sound output, and therefore it is a true pity that they didn't get the output impedance to be considerably lower in order to make it an almost-perfect digital audio player.


Digital audio output (external USB DAC):

Unlike some other digital audio players, the AP200 does not have any coaxial or optical outputs. However, it has got a USB-C port and can be connected to an external DAC, which is nice. At the moment however, it doesn't work well with several DACs, such as my Chord Electronics Mojo (ironically one of their sample photos on their website and crowdfunding page shows it connected to that very DAC).
What's wrong? You get the music to play, however there are glitches and stuttering. Hidizs promised to fix that, but are already way over the promised date. At the moment, there doesn't seem any info about when (or even if) the update that fixes that issue will be released. So if you are currently looking for a digital transport DAP to feed your DACs, better look for something else or get an inexpensive smartphone if you don't mind the size.

USB DAC:

While the USB DAC feature supposedly works natively with Linux and Mac computers, drivers need to be manually downloaded and installed from the Hidizs website to make the AP200 work as a USB DAC when connected to Windows computers. The installation is pretty simple though and only needs to be performed once.
Once the drivers are installed, the AP200 can be set to DAC mode using the drop-down notifications menu, and then it even displays the sampling rate and bit depth, which is really nice.

Bluetooth:

I only briefly tested the Bluetooth feature with the MEElectronics Air-Fi Matrix² headphone and the Mass Fidelity Relay stationary Bluetooth DAC, but what I can say is that the quality is, as expected thanks to the aptX-capable Bluetooth chip of the AP200, good and a bit higher than most already good non-aptX streaming sources, and just as good as any other aptX-capable source.
Apparently the AP200 is also supposed to work as a Bluetooth audio receiver, however this is a feature that I didn't test.
Bluetooth can of course also be used for various other purposes such as file transfer, adding an external keyboard or a remote.
Gapless playback:
Once it is enabled in the AP200's settings, gapless playback does work perfectly with the FLAC file. There is no glitch between transitions, no ever so short gap and also no end or beginning of either track is cut off during songs that have been recorded / mastered with a gapless transition in mind.
- - - - - - - - -
Comparison with the iBasso DX90:
Needless to say, the compared devices were properly metrologically volume-matched as close as possible, else the comparisons wouldn't make any sense due to slight volume differences that could be interpreted as a higher amount of details etc.
Here, I mainly used my Audeze LCD-X, my Sennheiser IE 800 and the HiFiMan RE2000 with digital filter # 1 for direct comparisons.

Both are comparably compact, with the AP200 being slightly taller but also slightly narrower than the DX90.
Both are built well, however the AP200 appears a bit more premium due to its CNC-milled metal unibody and slightly more modern appearance.
Screen-wise, the AP200 is definitely ahead and features a far superior resolution. In terms of touchscreen responsiveness though, both perform equally well.
The AP200 has got more features (Android OS with Play Store, WiFi, Bluetooth with aptX, more internal memory (32+ compared to 8 GB), digital USB output) whereas the DX90 has got a line output and coaxial output as well as an easily replaceable battery and a three-stage analogue gain switch while the Hidizs doesn't.
Both have a dual-mono implementation of the audio path, however no balanced output (that I don't care much about anyway).
The AP200 has got the more potent CPU wherefore card scanning speed is higher. Its stock player app's user interface is more modern as well and has also got a search feature that the iBasso doesn't have, nonetheless both unfortunately lack a track counter on the playback screen.
The DX90 has got the clearly more precise volume control (256 steps with linear 0.5 dB per step attenuation compared to the Hidizs 'purposely limited 100 steps), however listening at quiet levels using super sensitive in-ears is easily possible with both.
Both measure flat and neutral without a connected load or with a simple load, however the DX90 has got the much lower output impedance (only ~ 0.1 Ohms) wherefore it is suitable for all multi-BA in-ears, whereas the Hidizs unfortunately isn ' t due to its high output impedance.
Both audio players are really good when it comes to hiss performance with super sensitive in-ears, however the DX90 is even a bit better, being pretty much completely hiss-free.
The AP200 has got an even slightly "crisper" treble attack and slightly higher perceived transparency, however the DX90 sounds a bit "cleaner" in comparison (probably due to even its lower hiss output into extremely sensitive in-ears). Both are perfectly and equally tight when it comes to bass reproduction.
Soundstage width is pretty much similar, with the AP200 having a tad more front projection.
Keep in mind though that all of these sonic differences are very small and rather nuances, objectively regarded and when performing properly volume-matched comparisons.
Conclusion:

Hidizs' AP200 features a nice, modern design, is available with many different design options, has got good build quality, is priced attractively, comes with WiFi, has built-in Bluetooth with aptX, features very good hiss performance with extremely sensitive in- ears, has got a clean, detailed, transparent sound, and works well as a streaming source (
however
, depending on your environment, there might be occasionally audible WiFi interference noise with enabled WiFi, which is something to consider).
All of these features would make it a nearly perfect standalone digital audio player with streaming capabilities - if there wasn't its high output impedance that is not ideal for low impedance in-ears and headphones with a non-flat impedance response, such as the vast majority of in-ears with balanced armature drivers. Therefore, as a standalone player, the AP200 is better-suited for dynamic driver in-ears and full-sized headphones (as long as they have a flat impedance response or are have an impedance high enough so it isn't affected by the Hidizs 'output impedance). And the other issue is that the USB DAC Output feature that was promised but didn't find its way into the AP200 yet is still to be implemented through a firmware update (that was promised but doesn't seem to be finished yet - bummer) .
End words for this review: The AP200 is a surprisingly great digital audio player with WiFi streaming and aptX Bluetooth. And its sound output is nice - clean and transparent - wherefore it has (fortunately) almost nothing in common with the rather sub-par AP60 that is quite a failure as a standalone player and only works well as an inexpensive, purely digital source (however the AP60's USB DAC Output does work as opposed to the AP200). The only area that needs improvement on the AP200 is its output impedance that is simply just too high for multi-BA in-ears (and I personally wouldn't mind to see the player using all of the DAC's available 256 volume steps), as well as the promised USB DAC Out feature (heck, it was a promised launch feature, and the people at Hidizs didn't even meet their promised target of "end of March" to fix that issue after it was publically known).
1 more star if the USB out feature that was clearly promised was working - it's a promised feature, so Hidizs, please finally get it to work (I personally do not need it, but some people clearly bought the AP200 because of that promised feature, as the thread shows)!
Attachments
20180111_200654.jpg

20180112_061406.jpg