Stew oven - all about stew ovens & goulash cannons
The stew oven: what is it actually?
In the past, people used to refer to it as a goulash cannon, but today we know that the term stew oven can also be common. The large pots are powered by charcoal, just like a grill, and their robust construction makes them perfect for outdoor use. An integrated small chimney not only looks great, but also provides a classic way of emitting steam. In the pot itself, the food is prepared classically and continuously. Since the pots are available in different sizes, it is also possible to prepare a whole family portion for a larger group. The system is very simple and effective. And it enhances every garden.
How is such a grill set up?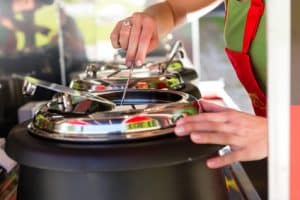 Although there are different models and sizes, the basic structure is always the same.

The centerpiece is always the pot itself. There are different sizes on the market here. Small variants around 12-15 liters are ideal for camping trips. It gets bigger with 25, 40 or 50 liters. However, these are in fact more suitable for gastronomy. The more manageable versions have massive feet, usually three pieces, which give the stove its stability.
At the bottom of the barrel there is a small door that leads to ventilating the charcoal. A grate is also available and is required for grilled food.
But the optical heart of your stove is the chimney. It is used for steam extraction and looks very impressive on top of that. It is attached to the back of the pot.
Good models also have handles on the side for transport or additional shelves for the grill tongs, cutlery or the respective food to be grilled.
Stainless steel is the material that is often used as the standard. In any case, you will make a good choice, as it is very weather-resistant and easy to wash off after use.
The right accessories
The stove alone is not enough, that much is clear. Depending on the equipment, you can improve your enjoyment here. Good accessories are essential. In some cases, the stove and its additional components can be bought in a practical set. In other cases you have to purchase it additionally. The following options are available as recommendations:

Grill grate (adapted to the size of the oven)
Grill tongs
ladle
Grill pan (as an alternative to the grill)
Vessels for storing food
Which manufacturer is the right one?
Different sizes and price ranges have just as much influence on the purchase decision as the manufacturer of the grill. Of course, there is no real manufacturer, that should be clear. Because ultimately your personal preferences are more decisive here or in which situations you plan to use the grill. The leading manufacturers include:

assets
Farmer
Expensive
Barbecook
These copies are available in well-stocked specialist shops, but also online. Prices vary depending on the manufacturer and size. As a rule, however, you should expect a higher double-digit value. More expensive models are then often worth over 100 euros. However, if you are looking for a solid model for household use that you can cook with from time to time, then a variant between 70 and 90 euros is completely sufficient.
What can you cook with it?
The name already says what is important. Stew is just one of the popular recipes that can be made in such an oven. But in principle there are no limits to your creativity. Cooking, roasting and grilling are possible in one device. This means that in addition to a stew, you can also prepare many other delicious soups in as large portions as possible. But tasty pans are also no problem, whether it's a vegetable pan or an official risotto. Equipped with a suitable pan, you will also succeed in this feat.
But mulled wine and punch can also be prepared in this way for all friends and acquaintances. If you buy a grill rack, your stew oven can be turned into a powerful stainless steel grill in no time at all. And here you can really grill anything you feel like doing. Meat, fish or vegetables - no problem at all. And when the meal is over, it is not a problem to convert many of these ovens into a real fire barrel using firewood. You should just not overload them with firewood and then make sure to clean everything well.
FAQs: Frequently asked questions about the stew oven
Are you already in the mood for your own stew oven? Then it is now a matter of removing all doubts. Here are a few of the most important questions answered quickly and easily.

| question | Hints |
| --- | --- |
| What do I have to consider when setting up? | First and foremost, of course, compliance with the relevant protective regulations. Otherwise, however, each purchased copy comes with assembly instructions that explain the individual construction steps. These instructions are also handy should you plan on building a stew oven yourself. However, this variant is significantly more expensive in terms of financial and logistical effort. |
| What influence does the weather have? | As a material, stainless steel has many positive properties. And weather resistance is definitely one of the most important of them. The device can easily withstand the outdoors. It can even remain outside in winter, although it is of course better to take the stove inside with you when you no longer have any active use for it. If you take care of your stove regularly and keep a close eye on it, you will have more fun with it in the long term. |
| What do I have to pay attention to when cleaning? | The most important thing here is avoiding aggressive cleaning agents. To ensure that the stainless steel continues to retain its positive properties, it is advisable not to use chemicals when cleaning. Water and a sponge are really much better. Special stainless steel cleaners should, however, be used with caution. This is where you should see whether the materials for your stove are also available. |
| How do I make the decision now? | A good grill costs money, so you shouldn't rush your purchase decision. First of all, you should clarify which occasions you need the grill for. And how many people are there? For smaller groups, it doesn't need a very large pot and a more compact version is certainly a better choice. If you prefer a grill instead of a soup oven, then it actually makes more sense to buy a stainless steel grill directly. Opinions and testimonials from friends and sellers are also an important point of reference. |