Fishtown Brixham narrator how I met
Cladders Symposium 2009

Johannes Cladders, exhibition opening HANNE DARBOVEN, February 25, 1969.
Photo: Archive Museum Abteiberg
The following speakers spoke at the memorial service for Dr. Johannes Cladders on May 17, 2009 in the Abteiberg Museum.
Isi Fiszman
Rudi Fuchs
Walter Grasskamp
Erika Hofmann-Koenige
Hans Hollein
Jean-Baptiste Joly
Kasper König
Dierk Stemmler



---
Isi Fiszman


Photo: Martin Kasper, Königstein
I think of Johannes Cladders and my memory is snowed over with many recollections.
We really met in summer 1968 after visiting Joseph Beuys in his atelier with Dr Gamzu, Director of Tel Aviv Museum, who was thinking to show Beuys with the Ströher Collection in Tel Aviv.
There was also another project of Carl Andre - a one kilometer piece - 500 meters in Israel and 500 meters in Palestine.
Those projects never came through but since then we never parted, even when our physical presence and contact was irregular.
A little later, Wilhelmina, Krefeld and the rest of the family.
I remember Brussels, 27th September 1968, his inaugural address for the XIX century section of the "Département des Aigles" du Musée d'Art Moderne de Marcel Broodthaers.
A year later, closing down Brussels and opening with Piet van Daelen the XVII century section of "Département des Aigles" in A379089 Antwerp, where his contribution consisted in a week vacation - work
work - vacation
you enter
on art history
physical and metaphysical
end of art
an hour of time, with his family Wilhelmina, Johannes, Martin, Maria and Brigitta.
In the beginning of this century, we still put the question of the future of art and assist to the emergence of the art who is not anymore limited to the ideal and simple situation, and putting us in front of the complexity of the real world, art who gives us the opportunity to the expression of the human creativity, to live all the levels of nature.
I'm realizing that "vacation - work" - "work - vacation"
was a demonstration of the irreversibility of the Arrow of Time.
This subject played such an important role in the thinking and thoughts of Johannes Cladders all his life.
The Arrow of History
Voilà l'Histoire
And he comes to the same conclusion as Borges:
"And nevertheless ... and nevertheless
To deny the succession of time
To deny the universe is raising up visible desperation and hidden consolation
The time is the substance from whom I am made
The time is a river who takes me along ... but I am the river
I am comsumed by the fire of time ... but I am the fire
The world unfortunately is real
And I, unfortunately, I am Borges ".
Well ... So much as living beings, we are dependent upon Time and Entropy who apparently are in our Universe irreversible.
above
---
Rudi Fuchs
Rudi Fuchs
Father Cladders
In February 1975 I started in Eindhoven. At that time I knew Johannes (at first, of course, Dr. Cladders) from rather fleeting encounters on Saturday afternoons in the Galerie van Konrad Fischer, where, besides only a few colleagues, you occasionally met some of the artists who formulated a lot of new things. Those were wonderful afternoons - I can't remember why exactly. In any case, it was nice not to have to speak the formal language of art historians there. Language, as we know, is full of caution and reservation: it looks at a work of art, but then hesitates to say something. But on Saturday afternoon we were taken along in the language of the artists: it was wonderfully concrete. No longer why a stone but what kind of stone and what to do with it. At these encounters, Johannes was always the calmest. He stood there, his head a little crooked, pulled on his Gauloise again, and then often said ... almost nothing. Or he asked you to better explain what you are trying to say in a difficult formulation. That was an important contribution to the precariousness of the hour. At that time he knew, much better than the rest of us, that polemics in matters of art or aesthetics would lead nowhere. Polemics are confusing. His best advice by far was: just take it slowly, slowly, and slowly.
Mönchengladbach, Bismarckstrasse, was the museum that Eindhoven was actually the closest - and not just geographically. Under my predecessor Jean Leering there were important exhibitions by Heerich and von Beuys. That was cooperation with Mönchengladbach. In April 1969, Gary Schum presented his legendary video work in the Van Abbemuseum. Due to the complicated circuits of the WDR (we found it at the time), this presentation, where Leering led the way, could also be seen on television in the Rhineland. I assume that Dr. Cladders was in Eindhoven that evening. The artistic milieu of the wonderful Schum project was also the Cladders milieu and the milieu of the Saturday afternoons in Düsseldorf at Fischer's. But I didn't know that at the Schum presentation, where I was also present: a young art critic and too shy, certainly, to be around Dr. Addressing Cladders there.
But what I actually want to say and remember: there was a faint spiritual connection between the two museums. I think it came from Johannes too. Once we talked about cultural regions. And he said: you know, when I was growing up in Krefeld and we talked about the city - that wasn't Berlin or Krefeld, that was Amsterdam. There was our spiritual-humanistic direction. Then, further: the Krefeld-Amsterdam axis also continued south: via Cologne to Strasbourg, Basel, Geneva, Turin, Genoa: a wide strip in the middle of Europe, not in the west and not in the east but north-south: that old empire of the peaceful middle, from the emperor Lotharius. And everyone should there, said Johannes then very passionately: everyone should speak their own language there, not mediation or communication through English: everyone should simply make an effort to understand the other.
Eindhoven was on the way (by car) between Brussels / Antwerp and Düsseldorf / Cologne - that is, between Marcel Broodthaers and Joseph Beuys. The two cities met in the middle. Because we were neighbors, my first visit as the new director in Eindhoven was supposed to be for my colleagues in MG. And so it happened that, after a short tour through the rooms on Bismarckstrasse, Johannes packed me in the car to take me to Joseph Beuys' academy studio. There was the large model of the new Abteiberg Museum by Hans Hollein. More on that later.
The calm and level-headedness with which Johannes spoke about things, including art and artists, was very impressive to me. It took me a while to understand where the calm came from and how strange it actually was. People of my generation, active in matters of art, but myself, were born and work (unconsciously perhaps) in the context of the great division: or the artistic separation between Europe and America, the spiritual separation that has certainly dominated conversation for a few decades. For example, if you talked about Robert Ryman on the one hand and Gerhard Richter on the other (let alone Penck or Baselitz) and you discussed value and quality - then such conversations always ended in passionate arguments and disputations. The basis of the split was that only one could be right. That is how we stood on the matter. But Johannes belonged to a different generation. When he started his career, I think with Paul Wember in Krefeld and with artists like Fontana and Yves Klein, there was, so to speak, only one great history of modern art from Cézanne to Beuys. America was a new branch and could have a say in its own language - as, as already mentioned, everyone was allowed or even had to speak their own language. So: in the way of looking at works of art, and in exhibiting them, and in talking about them, the question of which work was correct or incorrect did not arise at all. That's why a conversation with John was very liberating. Prejudices fell away, the so-called consensus in the formation of aesthetic judgments had no meaning for him. Such a person is not just a teacher - in the intimacy of the two museums on the border between East and West, in no man's land, Johannes inevitably became the father of the Cladders - and a moral authority.
Everyone should speak their own language and the whole mature beauty of our culture is precisely the multilingualism and multicolor. This was his exhibition program: autonomous and precise, devoid of any fashion: it was the great, important example of pluriformity - old-fashioned almost from today's perspective, where everything comes down to competition. This pluriformity was also the intellectual basis from which Cladders and Hollein conceived the new museum. Just briefly: I see the plan and structure of the rooms as a fluid course of rooms and controls in them (smaller, larger, narrower, wider, higher). From the inner center, the premises look for a path like small rivers down the hill. There are no barricades in this process. Of course there are protected rooms, but they are not strictly closed. In the new museum, and that was Father Cladders' dream (and legacy), all languages ​​flow together: how it should be. They flow and meet and we see what happens. And everything flows slowly. The architecture also seems rather quiet and slow. In modern words: slow architecture.
The novel Nachsommer by Adalbert Stifter, one, if not the favorite author of Father Cladders, is a wonderful example of slow reading and at the same time of an extremely slow and patient contemplation of the things around. At the beginning of the story, the narrator wanders through the warm, oppressive summer landscape of Lower Austria and looks at the vastness. Then gray clouds gather over the horizon. A thunderstorm, he thinks. He rings the doorbell at a country house nearby and asks for protection. The owner looks at the sky and the clouds and says there will be no thunderstorm. Nevertheless he lets his guest in and while you wait for the thunderstorm, yes or no, the owner guides him through and around the house. While looking at things, conversations arise: about roses, books, instruments, gardening and much more. I imagine that one walks through the museum like this, almost dreamy and erring, but attentively, accompanied of course. In any case, you can feel this atmosphere in the museum. It comes from the architectural formulations, which I would like to come back to another time. Finally, after about 80 pages in the novel, both gentlemen look out the window again to see that the thunderstorm has blown over. You see, Father Cladders would say: slowly you see more and better. Indeed, after summer is a wonderful textbook for art lovers.
above
---
Walter Grasskamp
Two rows of broad beans?
Photo: Martin Kasper, Königstein
In my office at the Munich Art Academy - that's how our offices are called there - hangs in a small black frame a flat white envelope in DIN A5 format. You can see the back of the thin mailer that has already been sent once: the stamp of the The front fades over the broadly glued paper edge as a corrugated phantom.
After opening and emptying, the envelope was then used upright as a carrier for pencil notes: Under an impatiently drawn, wide and multiply reinforced head line, which runs from left to right, there are two rows with fine dashes, including a row with simple dots, furthermore two rows in which long dashes and dots alternate rhythmically; this is followed by two rows with long dashes and, at the bottom, two rows with loosely curled circles.
It may sound like a list of Morse code or a catalog of elementary punctuation or a minimalist drawing by an artist who makes sure of the simplest elements of his repertoire, say a Sol LeWitt or Carl Andre. So it could also be a work of art.
But that only sounds like it as long as you haven't read the lines of text that run between the rows of characters. 2 rows of potatoes is the first, 1 row of peas is the second, and the third - 2 rows of broad beans? - is provided with a question mark. On the other hand, there seems to have been clarity about the following 2 rows of potatoes, and for the last two rows - you will remember: loosely curled circles - have been noted: lettuce, rocket etc. (radishes).
The pencil drawing is therefore not a work of art, but the plan for planting a vegetable garden in spring: The rows of characters correspond to certain types of vegetables, and when you read that, the playful interplay of characters and writing no longer looks like a notation by John Cage, but pragmatic and sober as a roadmap for useful nature.
When I saw this planting plan for the first time, in the spring of 2003, it was lying on the kitchen bench in the Cladders house, on a small pile of waste paper from brochures, newspapers and opened envelopes, which was waiting to be disposed of. I sat on a chair at the dining table next to this kitchen bench and could look out into the garden behind the house, for which this planting plan had been drawn up and probably already carried out before it was put aside.
While Ms. Wilhelma Cladders was still doing the last few things on the stove to get us lunch, and while Johannes Cladders was continuing the conversation with me that had already started in the morning, my eyes kept falling on this discreet notation on the pile of waste paper. On the second day, when we were able to sit down at lunch again, my eyes fell on the planting plan and at some point I picked up the envelope and saw on the front that it was from the Art and Exhibition Hall of the Federal Republic of Germany from Bonn to Krefeld's Martinstrasse 97, postmarked February 27, 2003 at 9 p.m.
In the meantime Johannes Cladders had already shown me his workshop, in which his own works of art were created and were lying around or hanging on the wall; furthermore some of the beautiful designs that his father once made for a tie manufacturer in Krefeld before the latter had to emigrate and the textile designer became unemployed.
When our multi-day interview, which we recorded for the first volume of the energies / synergies series published by Regina Wyrwoll in the Kunststiftung NRW, came to an end, I mentioned this planting plan during a later telephone conversation about corrections and additions and asked Johannes Cladders to give it to me if he hadn't already thrown it away.
I could only vaguely explain to him what I liked about that pencil drawing, but the following week I actually had a note-tagged envelope in the mail. It wasn't the right one, however, and so I had to give me an exact description over the phone before the planting plan actually reached me - after all, Cladders sometimes tested the people he was talking to. Since then, I've been enjoying the envelope and it's hard to explain why, but I want to give it a try today.
In the art-filled and art-filled house on Martinstrasse in Krefeld, it would not have occurred to anyone to consider this planting plan a work of art, and so the garden plan came into my possession unsigned. It was too carefully and lovingly made to pass as a scrap of paper, but too casual to be considered a work of importance.
In doing so, however, he fitted into the topic to which our detailed biographical and philosophical conversation had repeatedly returned and which was a life theme of the art theorist Cladders: Who determines whether and when a piece of work is a work of art?
As a museum novice, Cladders had already recognized the enormous importance of the role of the viewer in answering this question in the 1950s. His early engagement with Marcel Duchamp, promoted by his Krefeld museum boss Paul Wember, and the experience with museum tours had already inspired him to consider relevant issues before the at times almost fashionable aesthetic of reception made a name for itself - with its founder, Hans Robert Jauß, me Studied in 1969 when Cladders was already running his own museum in Mönchengladbach. We thus had a common theme, the aesthetics of reception, albeit viewed from different perspectives, and so I could well understand the force with which Cladders came back to this question throughout his life.
Did I think of the elementary garden drawing as a work of art? No, I just liked their casualness and their tangible practical relevance as well as the unpretentious elegance of handwriting and phrasing. But of course there was some uncertainty after our talks, which only made things more exciting, because when an artist and museum man like Cladders designs a garden plan, it looks like more.
Now, dear Mrs. Cladders, you could relieve us of all problems of interpretation if you said now that the plan came from you anyway and that, to your regret, your husband would never have looked after the garden anyway. But ultimately that would only shift the emphasis, because the question of the author is marginal in the aesthetics of reception.
It is precisely this openness of authorship and aesthetic status that contributes to the pleasure that this recording gives me; As a design for a kitchen garden it has served its purpose, but as a score it has acquired its own charm.
And so this drawing, as I would now like to call it, is a kind of aesthetic antimatter for me, and as such it hangs in my academic work studio: as a remedy for the overdose of art with which one can easily poison oneself in such a school .
Incidentally, it hangs at the interface to our own academy park - our Schwabing location is so luxurious - and reads the riot act of a practical kitchen garden to the dreamy aesthetic nature of this park every day - in the handwriting of a man who also kept form on the practical side of life .
above
---
Erika Hofmann-Koenige

In memoriam, May 17, 2009 JOHANNES CLADDERS
Photo: Martin Kasper, Königstein
"Cladders was the initiation for us" - Susanne Titz put that in my mouth to summarize my stammering when she asked whether I would like to contribute something to his memory today. Surprised, I asked myself: was that so? And what for?
At a time when my husband and I were looking for experiences beyond our normal professional and family life - "demanding in different 'country", to use Holderlin's beautiful expression - Johannes Cladders offered us the welcome opportunity to orientate ourselves in hitherto unknown realms .
Heinrich Dattenberg, my stepfather and Cladders' predecessor at the Städtisches Museum, led us carefully from the Renaissance to modern and contemporary art. (Incidentally: Dattenberg had recommended Cladders, whom he had met in Krefeld as Wember's assistant, as his successor.) But Cladders was supposed to introduce us to a completely new world. There was something disturbing about it - quite comparable to an initiation in secret societies or communities of fate, whose rites include seclusion and residence in inhospitable areas, deprivation of sleep, instruction and examination of the knowledge acquired. Because the new museum director confronted us with concepts and working methods that broke with common notions of art. That without such radicalism, without asceticism and innovation, there is no real art, that it is profoundly humorous, but always difficult, we learned first from the figure of light he is now on the 40-year-old photo of the invitation to his memory appears.
From his speech at the opening of the first exhibition in Mönchengladbach, I remember that the early Beuys' drawings were "almost too beautiful" for him; and since we had only seen these up to then - in Kranenburg and Kleve - but withstood their seductive lines, we "from then on" willingly accepted his skepticism towards any suggestion of conventional beauty.
As about fat and felt and the performance by Joseph Beuys in the Städtisches Museum on Bismarckstraße, we were amazed again and again: in view of Braco Dimitrijevic's sheet with the name of a random passer-by on the facade, Carl Andrés rough planks in the entrance, the one in circles and ribbons Richard Long's branches laid out on the parquet, Buren's orange awning strips. The sober photo series by the Bechers, the systematic sequences of numbers by Hanne Darbovens, Gerhard Richter's gray pictures surrounding the exhibition hall or the little notes of Lawrence Weiner pinned loosely on the walls left us at a loss.
Not that what surprised Cladders in Mönchengladbach had immediately swept away. It was too foreign to us for that. But the unknown and incomprehensible appealed to us, and some of the strangers we met at the openings of the exhibition became friends with whom the exchange of ideas meant a lot to us. We were particularly interested in the ideas, far more than the physical objects. Our first modest acquisitions - with a few exceptions because from the artists themselves - were multiples, especially the annual gifts of the museum association, until, thanks to Cladders' advocacy, a gallery owner, the first we got to know, was persuaded to do so, as he later did revealed to sell us the Jan Schoonhoven relief from the exhibition in the Municipal Museum, which we wanted to have.
That surprised us, because Johannes Cladders himself would never have said a word about such things. And we wouldn't have asked him for advice, either. It wasn't until much later, when he was already a private citizen again, that we once asked him, the proven specialist in museum architecture, to help us present Frank Stella's design for the Kunsthalle Dresden. Which he did so charmingly and decisively.
When asked repeatedly in the museum about the nature of art, Johannes Cladders was happy to answer that art is what the artist does. And on how to recognize the artist, he usually just smiled mischievously. On the other hand, he was verbose and patiently devoted to questions about the meaning of certain works of art, took generous time for anyone who wanted to talk to him about ideas, and enjoyed playful, detailed narration. My husband saw it more often than I did: at the board meetings of the museum association. As much as he, as an entrepreneur used to quick decisions, endured the long, smoky consultations as hard tests, he was also fascinated by the glowing enthusiasm, the wandering and circling around vague ideas, which left the audience exhausted and thoughtful.
How far and diverse Cladders have inspired both of us, I can hardly measure. I just know that without meeting him we would have led a different life. Thanks to the certainty with which he judged, the quiet eloquence with which he expressed his opinion, he soon became an authority for us. However, to one that did not call for believing allegiance, but for one's own thinking, including doubts and contradictions. On the other hand, we admired the freedom of his thinking, the steadfastness with which he pursued his vision, as well as his strategic skill, yes, the cleverness with which he succeeded in realizing the Hollein building in this city. Last but not least, we were won over by the passion that we felt - despite all discretion.
Apart from the now legendary exhibitions that shaped our perception, the catalog boxes he invented, which were not only cheap to produce, but also gave every artist the freedom to create their own, and the art in general that we were able to discover thanks to Johannes Cladders we are impressed by his independence and willingness to take risks. Presumably they too encouraged us to begin our Berlin adventure: to make our "inhabited collection" accessible to the public. Obviously, in this experiment, which tries to keep the balance between the private and the public sphere in the social as well as the artistic field, the Beuysian ideas of a social sculpture continue to have an effect. I hope Johannes Cladders would view this new state of life as a result of his initiation - or, better, inspiration - with sympathy.
above
---
Hans Hollein

Photo: Martin Kasper, Königstein
First of all, I would like to say that I don't have a finished paper that I can read out; especially from the situation that I originally sent a message of greeting, but am now there personally.
This is about Cladders, and this is also about this house, and not just about this house, but also about how it came about that there was a very fruitful collaboration between Johannes Cladders and me - but not only in connection with the project of this museum, but also in other contexts. I can't always describe it exactly or understand how it came about.
First of all, I want to say here that Cladders was one of the essential people in my life. My path was partly determined by him, and there was also the possibility that we could realize an idea together - the museum in Mönchengladbach, and in the end, as you can see, this was a milestone in the global situation of art and architecture that grew out of our relationship and vision.
My first encounters - I tried to trace this back one more time, but my wife, who knew all of these things, passed away ten years ago; and Madeleine Jenewein, who was her sister and my longtime - not a secretary, but she knew everything - sadly passed away three months ago, and now I come to a lot of things that may be gathering dust somewhere in our archives, but not like that easily there. My first contacts or encounters were in some way connected with Vienna and with Msgr. Mauer. Cladders has invited Monsignor Mauer to give the speech for Beuys' exhibition, which was still going on in Bismarckstrasse. And in connection with these encounters or contacts, in whatever form, Cladders invited me to do an exhibition in Bismarckstrasse. That was around 1966, but it wasn't until a few years later - still on Bismarckstrasse - that this exhibition "Death" came about. It was around this time that the first discussions took place and the suggestion: why couldn't I take over the planning of the new museum that Cladders was aiming for? I found that a wonderful challenge, of course. My background at the time was that I did a very important job, a small candle shop in Vienna. This shop received a lot of abuse, and I was only able to get the building permit with tricks. As it turned out, however, in 1966 I got the highest architecture prize at the time - later it was the Pritzker - which was higher than the construction costs of this shop, $ 25,000, which was still a lot of money at the time.
In similar contexts that emerged just as suddenly, one day - I assume it was 1966 too, but could have been a year earlier - suddenly a man stood in front of my apartment door - and that was Beuys. I knew Beuys from a photo of this action in Aachen, where he was insulted and physically attacked, and he stood there in front of my apartment door and said: "I'm coming because I want you to be the next professor of architecture at the Düsseldorf Art Academy" . And then I said to myself: maybe a museum in Mönchengladbach, maybe the art academy in Düsseldorf - but at first that seemed like a dream to me. Beuys was with me in Vienna for three days. We talked about all kinds of things and then shortly afterwards I received an invitation from the Art Academy in Düsseldorf that I should give a lecture there; what I did. And then, about six months later, I was elected the new professor - with the votes of the artists, against the votes of the architects.
So these were actually two things that were floating in the air at the same time and yet suddenly became more concrete. An appointment to the art academy is of course immediately confirmed in writing and is associated with payment. As for the museum here, the idea of ​​Cladders, I was asked by the city of Mönchengladbach, after having been to Mönchengladbach quite often, to find locations and then specifically two locations for this planned museum and to present them in terms of urban planning - and Cladders was naturally there always fully behind it, so to speak. Then in 1972 the first planning order for the museum was given on the property I proposed - namely this one where a prison was and still stood before. Under the prison was a beautiful garden with fruit trees, but there was already a plan for the beautification of this garden.
I have to say that I was very impressed that someone like me was asked. I just started saying what I was doing in this area before. I had designed a room for Emily Rauh Pulitzer for the museum in St. Louis, where I designed a new museum vision, so to speak, a room vision that should also be implemented. I was then visiting professor at the University of St. Louis for a year, but then had to come back. That was about 1963, and it didn't come to this museum area. Later, after marrying Pulitzer, Tadao Ando built a museum for Emily Rauh in St Louis. My contacts with America gave me the opportunity to build the Feigen Gallery in New York. That was my only business card, so to speak, that I was able to show in terms of the museum structure. Of course, I had already worked in architecture studios before, where I was involved in very large tasks.
That was now, so to speak, a description of the situation - and actually it is sometimes very unbelievable that there are also such good fortunes. I also have to say that it was a strange situation here, I don't want to offend anyone or anything - rather the opposite. At that time the city had 175,000 inhabitants, when Rheydt was still separated, and of course it was known for football - not so much for art. Then it turned out, however, that at that time some citizens of the city - a number of acting people are sitting here today - would like to have an art museum again. The temporary solution was Bismarckstrasse, but the other (Haus der Kunst, with the Kaesbach Collection, in the former Karl Brandts-Haus, Kaiserstrasse, editor's note) was closed with "degenerate art" in 1937, so to speak. I found a very interesting situation.
I also found it interesting that a mayor of this city came to Vienna and absolutely wanted to see the Strudelhof stairs. I believe that even the current mayor of Vienna or something like that has not yet read "Die Strudelhofstiege". Those were actually those moments when I thought it was a very interesting situation. Something developed from that. So there was another stage. First of all, we developed two main variants - called rice terrace and aircraft carrier - and then a symbiosis of rice terrace and aircraft carrier emerged, and it was subsequently built - unfortunately with a few interruptions because the construction company went bankrupt and was not continued for a year and a half could be built, etc. But in 1982 the opening, which was already mentioned earlier, was with the Federal President, etc. The cooperation or, above all, the relationship with Cladders was actually a very intensive one. We had a lot of parallel thoughts, we also had a few different thoughts, but during the entire time we worked with Cladders there was never a conflict that was supposed to develop more dramatically in any way, instead there were perhaps different premises or other Priorities.
For example, those pillars that you see, that I wanted to have polished in shiny stainless steel, Cladders really wanted to have painted, and we talked about them. If the pillars had been in this shiny material, they would have been immaterial, so to speak, and then under certain circumstances would also have brought - how should I put it - competition with the works of art. Those were very interesting discussions. Or - I had a studio courtyard at the art academy in Düsseldorf at the time, where I could do all these things: we built models, placed three models next to each other and projected them. So things were worked on very in depth there. There was actually always a consensus between Cladders and me, but luckily there was also Mr. Diekamp, ​​who was the head of the cultural department at the time, and also the people who belonged to these various groups or committees belonging to the city. I have to say that these bodies actually made a difference back then. The enlargement of the stadium so that the international games should be able to take place here and not anywhere in Düsseldorf or anywhere else and the museum. Then there was a kind of referendum and the museum won. Of course, this arena was also made afterwards, but it was easier to attach this, so to speak, than the other way around.So in order to calm down the sports areas, the other building was also released a year later.
Back to the important contribution from Cladders and the really harmonious collaboration. We were always via "you" - and I thought that was absolutely fine - he was 10 years older than me - and I would have found something like that to be more of an ingratiation. Cladders said goodbye to me the last time I met him here (on the occasion of the reopening of the museum on November 4, 2007, editor's note) and we both agreed that we would no longer see each other. He then came up to talk about that, and I saw it from an absolutely positive side. There are rankings in certain areas, and so there is also the other way around my ranking - also fully recognized. I don't know how it is anywhere else , but in Vienna today you can be with all sorts of people within one evening.
What I wanted to say again about the city and the question that was presented a bit today, this tremendous knowledge of Cladders, of the art scene and the relationships he had with the artists: Cladders could easily have become a German Gagosian and could have built a great villa. But for him it wasn't about the money, it was about the art - and not just as a museum director, where he created a home for the art and, as we know, where he was an artist himself. That is what I wanted to say very briefly today.
above
---
Jean-Baptiste Joly

Don't forget October 18th, White Flag Day. Johannes Cladders as an artist
Photo: Martin Kasper, Königstein
On October 18, 1988, during a guest stay at the Jerusalem Center of visual arts, Johannes Cladders put a white flag on the outer wall of an old, venerable building that stood on the former demarcation line between West and East Jerusalem. Except for the sober description of the object (dimensions and material), he made no further comments. As you can easily imagine, this action found little understanding from the Israeli police and the flag was removed shortly afterwards. For the local population and also for us today, 21 years later in Western Europe, the meaning of this white cloth cannot be reduced to its materiality; we project meaning, in this case a precise political meaning, onto this object. The considerations of the artist Cladders play out exactly in that space between the materiality of an object and its meaning for the recipient, and play with the arbitrariness of the sign (L'arbitraire du signe) in relation to its meaning.
Johannes Cladders was always an artist, one could even say that in addition to his artistic activity, he also worked as a museum man for a few years. In the brief biography of the catalog dedicated to him by the State Gallery's Graphic Collection (1994), the artist's discreet life is reduced to a minimum; only a few actions and publications are mentioned. He shortens his name to the first letter C (C for Caesar) and the copyright symbol ©, with which Johannes Cladders usually signed his works. His artistic activities required an author as a condition of their existence, but he renounced any heroic gestures and did not place himself in the foreground as an artist.
Even if he made a strict distinction between his work as an artist and his work as museum director, Cladders' statements as an artist and his comments on the art of his time match wonderfully. When he speaks of the "reality claim of art", or of the "reality of art as a definition of art" (Cladders' collection concept, letter to JBJ, spring 2002), or when he says in a speech to Robert Filliou and George Brecht that "the sharp separation between art and life cannot be made out", these statements could also apply to his own artistic work. In the foreword to the catalog of the Cremer Collection (vol. II), in which he is also represented as an artist, he writes: "These are sketches, fleeting notations and drafts, printed sheets and multiples, invitation cards, relics of campaigns, souvenirs Encounters. Such things often lead us into the original rubble and undergrowth where the source arises: the one from which the flow of an oeuvre feeds and at the same time the one that ultimately apostrophizes this river as art ". Cladder's work cannot be described more precisely! At this point, Cladders removes the boundary between artist and art historian and with this comment refers to the works of the Cremer Collection in general as well as to his own work.
In the artistic positions that interested him as museum director, Cladders looked for the questions that preoccupied him as an artist and found them again, e.g. with friends such as Broodthaers, Buren, Filliou, Brecht or Penone, with whom he was mentally and artistically related. This shows the coherence of his stance and the continuity between his activities as an artist and his exhibition and collection activities.
"Do not be under the illusion that artists are criminals" said Johannes Cladders in the run-up to the opening of the Akademie Schloss Solitude. The relationship between artist and art historian is actually comparable to that between criminal and detective. One breaks the rules and covers the tracks, while the other tries to uncover the facts. Cladders alternately played both roles and avoided any confusion as far as possible, sometimes by a hair, such as in 1970 when it came to taking over the Etzold Collection (in which he was represented as an artist) on permanent loan to the museum in Mönchengladbach. At that time he led the city's purchasing committee through the collection exhibited in the Kölner Kunstverein, passed his own work without comment and never exhibited it in his own house after the Etzold collection was taken over into the museum's holdings.
In January 1995 I saw Cladders, alias Caesar, play both roles in Edgar Poe's story, that of criminal and that of detective, while setting up his own exhibition at Akademie Schloss Solitude "The stolen letter", which "soiled and crumpled" the envelope in order to put it better in "one of the upper compartments of the card stand" and the detective Auguste Dupin, who "went straight to the stand, took the letter and put it through one replaced others, a kind of facsimile. " They are not just quotations from E. Poe's stolen letter, but also, as luck would have it, descriptions that relate precisely to objects in the Cladders' exhibition at the Solitude Academy.
This address is not only looking backwards, it also wants to look into the future. In the spring of 2008 Johannes Cladders approached me with the idea of ​​introducing a day of the white flag that the Akademie Solitude could convey through its international network of artists. He has been associated with the house as its first jury chairman and member of the board of trustees since it was founded. For example, twenty years after the action in Jerusalem, a "White Flag Day" was launched with the motto: "Don't forget October 18th, White Flag Day". People all over the world were encouraged to hang a white flag on their house or window for a day. Photos of the campaign can be found on the academy's website. With this action, Cladders frees his art from the question of its authorship, which he leaves to the participants, also from the compulsion of 20th century art to be "intentionally designed for the museum" (Cladders in the catalog Penone in vita Cladders). We want to repeat this day every year. That is why I call on you, ladies and gentlemen, to take part on the next "White Flag Day", October 18, 2009, and all following.
In the catalog of the Cremer Collection there is a drawing from 1984 entitled "Project". It shows a flag in the typical Claddersí style in front of a clearly recognizable environment, the German pavilion in Venice. Perhaps on October 18, 25 years later, we will be able to put a white flag on the outer wall of the German Pavilion? So encourage your friends to take part in this action everywhere, because, according to Cladders,
"The white flag signals freedom. Whoever hoists it on October 18th is a sign of it."
above
---
Kasper König

Robert Filliou: Project for toilets in the new Mönchengladbach Stadtmuseum. MEN WOMEN ARTISTS
Photo: Martin Kasper, Königstein
I will not be able to tell you much about the proposal that Robert Filliou made to Johannes Cladders. Cladders was already dreaming of a new museum when he started on Bismarckstrasse. He was almost like a secret scientist who worked precisely with different artists in a laboratory situation, i.e. he knew exactly what he wanted, or rather, what he didn't want; and with those he worked with, he got involved intensely. Some of you still know this Wilhelminian style villa in the middle of Bismarckstrasse: very obscure, very mysterious, very sovereign - you wouldn't expect this in a relatively small town - but small. He did various exhibitions there of people who would be more associated with the history of ideas than with the usual practice of art. There was a very strong break, but it was never sparse and humorless. It was always very challenging and had a great intellectual level.
Cladders did an exhibition there with Robert Filliou and George Brecht in 1969 that related to a game situation in southern France. At that time, Filliou lived in Düsseldorf, as did a number of foreign intellectuals - poets, free spirits - who claimed they were visual artists and who then did something that could be bought as art so that they could survive. I think it is somewhat similar with Broodthaers. This was made possible, among other things, by a figure like Cladders, who took things as they were - from his point of view to be taken seriously. It was a very idiosyncratic man and also a totally calm one, as it became very clear in Rudi Fuchs' description. And whenever the excitement was too great - at that time almost everyone was puffing - he said: "Come on, let's go have a smoke first". So he was always the mediator, so to speak, but not in the sense that we now want to sweep the conflict under the rug, but let's go into the criteria that were required by the artists and by the really new projects.
Since he always dreamed that there had to be a new museum in Mönchengladbach, Filliou made a proposal for a project for the new municipal museum very early on - in 1969. Prof. Hollein has just said that Cladders would never have conveyed that to him in any way. It would certainly have been very difficult, especially since you, Prof. Hollein, have very well addressed and interpreted all the rooms that concern the museum and that are not just exhibition rooms; the cafeteria, the toilets for men and women, the auditorium, etc., where something was also celebrated. That would have given you a difficult task to take up Filliou's proposal, which suggests three doors for three toilets, namely those for women - or women -, those for men - or men - or those for artists. And I don't think there is this conflict anyway: women or men - or women or men - but artists. And not in the middle, but you had multiple choice. This is of course a very nice playful idea, which is perhaps much better than an idea of ​​how it hangs there between the toilets than a draft without actually implementing it. In his time there was this often-quoted beautiful sentence by Joseph Beuys, who said in Berlin at the Wall: one should increase the Berlin Wall by 6 cm for reasons of proportion. So exactly on this level, not pragmatic ostensibly moralizing politically, but with a wink, so to speak. That was the association for me. For me there was an immediate relationship to this project idea from Filliou. It is of course very difficult to understand: Cladders is sitting in Bismarckstrasse, gradually making carefully elaborated exhibitions and discovering for himself an opportunity to make interesting catalogs even without money - this is how these cassette catalogs came about, which always have this playful and the mysterious, the concealment and the revelation, show - and think about a new museum. Then - like Kai out of the box - a museum comes along, which at first is completely contrary to the individual exhibitions that he has made, which are, so to speak, selective investigations. He is now creating a framework that celebrates the museum and still does justice to the works that are so important to him. Then there are ironic but very loving contributions from artists, that's how I see Filliou's project. I am also sure that it is not someone who said: 'Did you now have that with the client of the city and have you discussed this with the architect' - not this know-it-all, but with a wink. This is something that Cladders has always been receptive to. I think he's very different from other people in the scene.
Cladders was born in Krefeld. He worked with Wember - this becomes wonderfully clear in this book (Walter Grasskamp: Johannes Cladders. Energies - Synergies, Vol. 1, Ed. Kunststiftung NRW, Cologne 2004, editor's note), in an interview with Grasskamp - also the nuances. He always stayed in this area, but was a universal person. For him, the local and the universal were not a conflict at all, but a matter of course - and in this respect I will not tell you anything more about this work by Filliou today, because you can say a lot about it or not, and if you tell a lot about it, it will not better either. It's either a pun or it's a philosophically brilliant idea because there are conflicts that can never be resolved and that are interesting as an artistic proposal because it apparently resolves this conflict situation, but then makes it much more complicated. There's another Filliou project that goes with this thing. He made a game of cards; that was 100 wise answers to stupid questions. And there is a very nice answer or question that goes like this: 'If your aunt were a man, she would be your uncle.' Thanks.
above
---
Dierk Stemmler

In memory of Johannes Cladders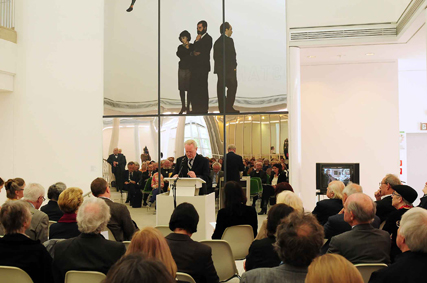 Photo: Martin Kasper, Königstein
Dear Mrs. Cladders, ladies and gentlemen,
my contribution to the appreciation of the work of Johannes Cladders deals with the painting ensemble "8 gray pictures" by Gerhard Richter, oil on canvas, each 226 x 176 cm, created in 1975 (work no. 367 / 1-8 ) and in the same year acquired by Cladders with the support of the Rhineland Regional Council for the Mönchengladbach Municipal Museum. They were first shown in 1976 as one of seven rooms in Bismarckstrasse 97, documented in the cassette catalog Document III, "ROOMS", and commented on by Johannes Cladders with a statement by the artist. Since they were installed analogous to one of Richter's two concepts in 1982 in the Abteiberg Museum (at that time on the ground floor in tense company with Richard Long's stone circle), these pictures have created one of the most striking rooms in this outstanding architecture: "8 Gray Pictures" - particularly weighty in an extensive group of works by Richter, which began in 1966 and from which he draws conclusions to this day - denote a place where two artistically uncompromising spirits, the painter and his mediator, meet.
By creating, as he himself says, "a piece of reality" by painting, Richter methodically deals with the problems of appearances and appearances and with questions of visual concreteness; this applies to all of his procedures and groups of works. In particular, however, the Gray Pictures are thematically related to the following other groups of works by Richter: - with the copying or "portraying" of color sample cards from the paint manufacturers (since 1966 at the same time as the first Gray Pictures); From this, Richter developed various images in systematic mixtures of chromatic colors, black and white from many individual, randomly arranged color fields (once, 1974, up to "4096 colors"); - with different types of direct painting of red, blue and yellow on the canvas (first 1968, systematically from 1972), e.g. in "Schlieren pictures" and line jungles; with black-and-white stainings (a.o.1972); - with his installation of framed glass panes (1966/67 and 1978); these are to be regarded as transparent media for spatial images (the photo paintings comparatively as painted media for photo images), but also as monochrome glass panels instead of monochrome painting; and in a modification of this relationship - with the "Mirrors" (1978), which can be viewed as media for reflecting spatial images and at the same time as concrete, single-color glass panels with a metal background.
Gray that appears monochrome can be evenly mixed from red, blue and yellow, from green, orange and violet, from all 6 colors, from all conceivable chromatic colors - sum of a color table picture as well as all color table pictures - and from black and white. If you take a closer look, you will notice slight streaky differences in the gray mixture within each of the 8 gray images and in them the components of gray from black and white (so that the gray does not appear too cold, a little umber is added according to Richter) and fine bluish - brownish, dark-lighter nuances.
The very extensive literature on Richter also frequently cites him himself, for example in the catalog "fundamentele schilderkunst / fundamental painting", Stedelijk Museum Amsterdam 1975: "For me, gray is the welcome and only possible equivalent to indifference, refusal to testify, lack of opinion, lack of shape. But because Gray, just like shapelessness, etc., can only be real as an idea, I can also produce only one color tone that means gray, but is not. The picture is then a mixture of gray as fiction and gray as a visible, proportioned color surface. " (Quoted from the exhibition catalog: Gerhard Richter. Pictures from the years 1962 - 1974. Kunsthalle Bremen November 30, 1975 - January 18, 1976, catalog editing by Marlis Grüterich, Bernhard Schnackenburg, Mainz 1975) Do you evade conventions and manipulations through radical artistic alternatives?
But the basic attitude of the artist alone cannot explain the special quality of the 8 gray pictures, it needs to be patiently seen: picture for picture and as a spatial overall work, namely 2 pictures each on the 4 walls of the same width of a square room, entrances across the corner, whereby the distances between the pictures, the pictures from the corners and from the entrances are the same - according to the hanging instructions, slightly modified with regard to only one entrance to the square room, now installed in one of the square skylight rooms.
In terms of formats and proportions, the volumes of the picture carriers, the type of canvas, the medium gray tones and the diagonal line direction and width, all 8 pictures resemble each other like a cloned being. In the layers, lengths and the number of brush marks and so in the layers of the back layers that have remained open, which appear a little drier and a little darker, slight differences can be discovered; However, they are so small that it is difficult to determine the comparable parts from picture to picture without measuring aids with just the eyes and that it is impossible to determine in which order the 8 pictures (although numbered on the back) were actually taken. True, they can be read as a clockwise sequence or against it; But one cannot avoid assuming a conscious artistic intention in the fact that neither a prototype and 7 subsequent images (i.e. replicas) nor a sequence of variations in the sense of a cycle are recognizable and meant, for example, according to the spatial arrangement. Rather, each of the 8 images appears as an autonomous individual image and at the same time each as the other's "pre-image" and each of the other's "after-image" - and this in an indefinite way, so that the gaze looking for a stop also into the virtual movement of the Layers of color get as well as reassurance in parallels to the neighboring pictures. If you wanted to risk a detailed description: with which picture and where in the picture should you start? The position in the room and the European reading from left to right could decide in favor of the first picture to the left of the entrance and, according to this reading, follow the brush movement from bottom left to top right in the ascending diagonal: basically a largely random one Choice.
The sublime events are repeated with the indicated local variations: In several layers and low shades of gray, the painting process creates a constant diagonal movement that lets you feel indefinite depths as well as times, unfathomable, tenacious, unstoppable, continuing into the invisible or protruding compactly from the wall, as if a "greater" movement had been condensed suggestively on the rectangle - to a picture and a non-picture at the same time. Viewed in this way, movement does not appear to have ended anywhere, neither in the surface nor in the optical depths from which it emerges and into which it plunges, but in each case stopped in the matter of the shiny, dried-up gray and in its connection to the strict format of the carrier.
The question of whether these structures are to be interpreted as preliminary stages to Richter's later "Abstract Pictures" as an abstraction of natural-like phenomena or as a real "representation" of gray or as concrete painterly action in gray, although this latter possibility is an immediate procedure without reference certainly has priority on something else, does not completely exclude the other two perspectives - and not because the uniformly unsteady character indicates such an ambiguity by itself. Subject, content and method are indistinguishable. A tendency towards white or black is not clearly determined.
The perception of the sequence from picture to picture fluctuates between expectation, confirmation and new expectation, between opening, saturation and renewed restless search ... You can experience this organically differently when walking around clockwise than when you approach the rising diagonals; Only from the experience in both directions and from the consideration of the individual pictures and the picture pairs per wall does an overall view emerge, on the one hand the scale arrangement in the room, the pictures
as a quasi-painterly statement of the space itself, on the other hand it opens up the idea of ​​a continuing flow in the invisible and thus an endless rhythm.
Absolutely strict, yet cyclically-anticyclically open, opposites are inextricably integrated: non-color and color, gray representation and grayness, condensed and dissolved, hidden and open, flat and deep, indifferently simple and diverse, timeless and temporal, clear and dark sonorous, impersonal and physically present. The images repeat, interpret and unsettle one another, are identical and not identical, consistent and free.
I quote Johannes Cladders from the cassette catalog "Raum", 1976: "The motif of the pictures does not lie outside of themselves, not even within each individual picture, but in the painting itself, which is only committed to its own approach."
above