Doctor symbolizing wireless router
Wuhan whistleblower doctor dies
The 34-year-old Li Wenliang (article picture) contracted the virus himself while fighting the virus and the "comprehensive efforts" to save his life were in vain, said the central hospital in the Chinese metropolis of Wuhan. Li worked there as an ophthalmologist. At the end of last year, he noticed symptoms in patients that were similar to those of the Sars pathogen. According to the official statistics, a total of 349 people in mainland China died from the Sars virus in 2002 and 2003.
"Spreading Rumors"
In a message to colleagues on December 30th, Li shared his findings. Together with seven colleagues who had also reported the existence of the novel virus, he was then warned by the police about "spreading rumors". Li later became infected while treating a patient.
Li was celebrated by Chinese internet users. He was "a hero" who paid for his efforts against the virus with his life, wrote a user who described himself as an orthopedic surgeon on the Weibo network.
With the approval of the party's central committee, the state supervisory commission sent an investigation team to Wuhan, the agency said. The death of the ophthalmologist had aroused great sympathy across the country because for many Chinese it symbolized the consequences of the authorities' slow response to the coronavirus.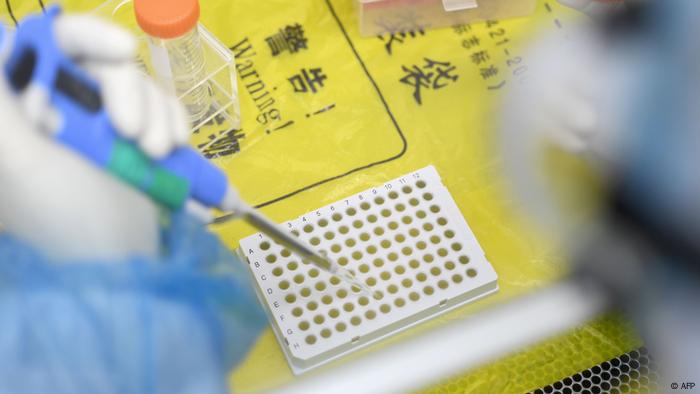 A Chinese laboratory tests for coronavirus
Meanwhile, China's state and party leader Xi Jinping sees the fight against the spread of the virus in a "decisive phase". In a telephone conversation with US President Donald Trump, according to state media, Xi Jinping explicitly referred to the World Health Organization (WHO), which had warned other countries against overreactions. He hoped that the USA would also assess the situation "calmly" and, in response, would take and adapt their measures "appropriately".
The number of deaths continues to rise
The President was apparently referring to the US entry ban for Chinese and foreigners who were previously in China - with the exception of relatives of US citizens. "We are completely confident and in a position to defeat the epidemic," said Xi Jinping.
The number of deaths from the novel virus is now significantly higher in mainland China than during the Sars epidemic. According to new figures from the Chinese government, 636 people in mainland China have now died as a result of the infection.
nob / sti (afp, ap, dpa)