Free royalty-free images
Stock photos vendors make a lot of money with images. The advantage: Stock photos can be used commercially. The disadvantage: They often look artificial and are expensive - too expensive for the budgets of many creative and marketing departments. The alternative are free royalty free images. And what about images that are under CC licenses? We provide information on safe use.
It doesn't always have to be a stock photo
For the illustration of our articles or our social media channels, my colleagues and I regularly search through a wide variety of image databases for suitable material. Unfortunately you come across at Stock photos providers Again and again the same glossy advertising images with happy people including Colgate smiles and model sizes - motifs that are as far removed from everyday work as Germany is from a first place in the Eurovision Song Contest.
So you go looking for it more authentic images. You leave the secure realm of commercially usable payment photos and immerse yourself in the flood of images from databases such as Unsplash, pexels, pixabay or flickr.
It usually doesn't take long to find the perfect picture for your own blog article. It not only fits the topic, but also the Corporate identity and the other imagery of the company. But what does the strange combination of letters "CC BY-NC-SA" mean under the picture?
After clicking on the Text of the license terms you feel like you have to go to law school to understand them. With a crying eye you try to forget the perfect picture again and decide on a purchased stock photo. Under certain conditions the image could have been used safely and free of charge!
What are Creative Commons Licenses?
The legal subtleties about copyright we have already dealt with this in our article "Copyright for images: Your company must be aware of this", so here is just a small quote that you should keep in mind when doing image research:
In principle, all photos in which a human hand has pressed the shutter release are protected by copyright.
This also applies to pictures that no copyright notice to have. In any case, you can't manage without checking the image rights.
In spite of copyrights, photographers or artists can also decide to publish their work available to the general public without having to be expressly asked for permission. This is where the so-called Creative Commons licenses come into play. These are legal texts that stipulate the conditions under which an image may be used.
CC licenses are suspended individual modules together who set the terms of use. For each module combination there is a single link with the respective legal text. This must be linked to the respective picture credits.
CC licenses at a glance
CC0 - Use of free royalty-free images with no restrictions
The CC0 license is the best that can happen to you. Images with this license may be copied and changed as required without naming the author or asking for permission. The so-called public domain images may be used commercially. Online image databases such as Unsplash, pixabay and pexels almost exclusively collect images with CC0 licenses.
free commercial use
free editing
no picture credits required
Link to the license: CC0 - no copyright protection
Examples:
Pexels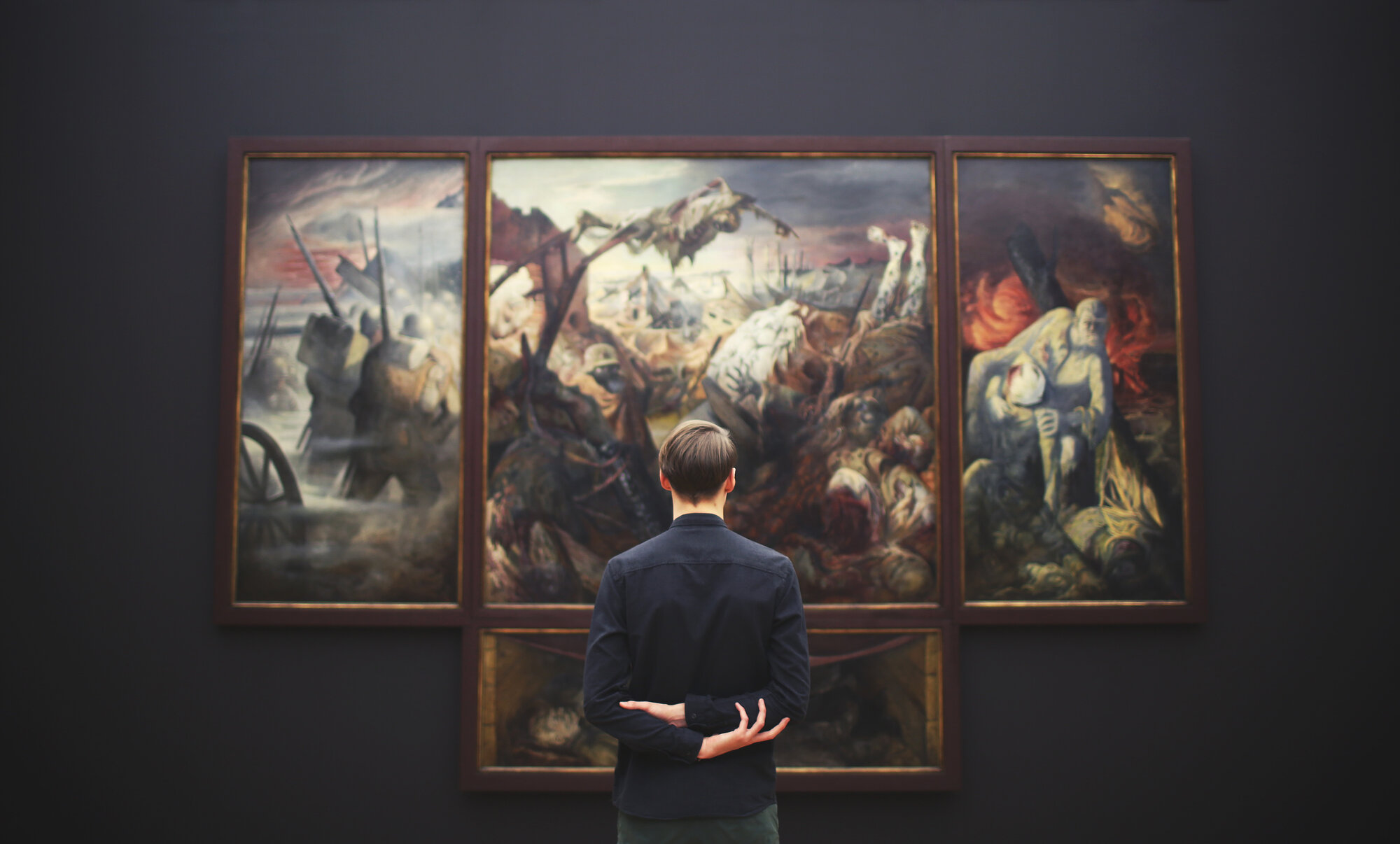 Pixabay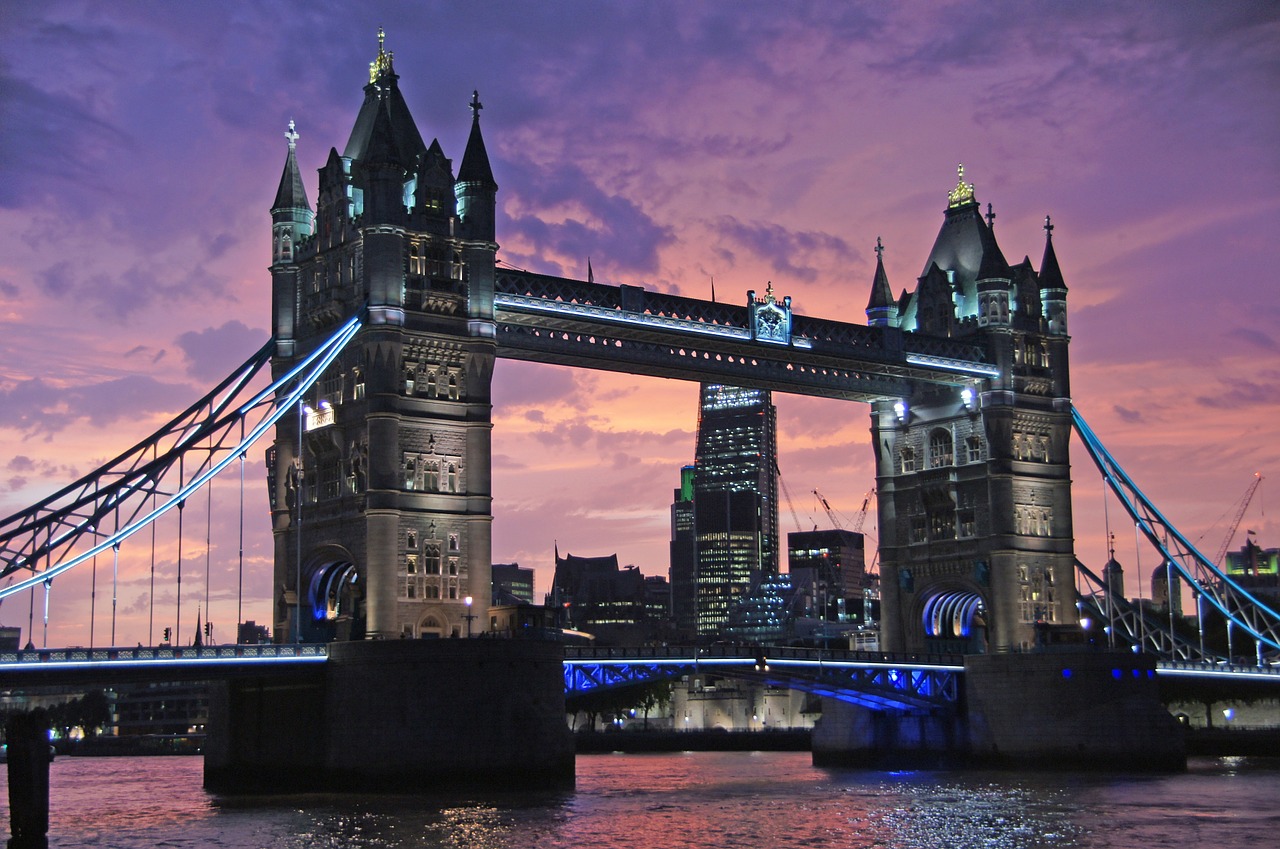 Unsplash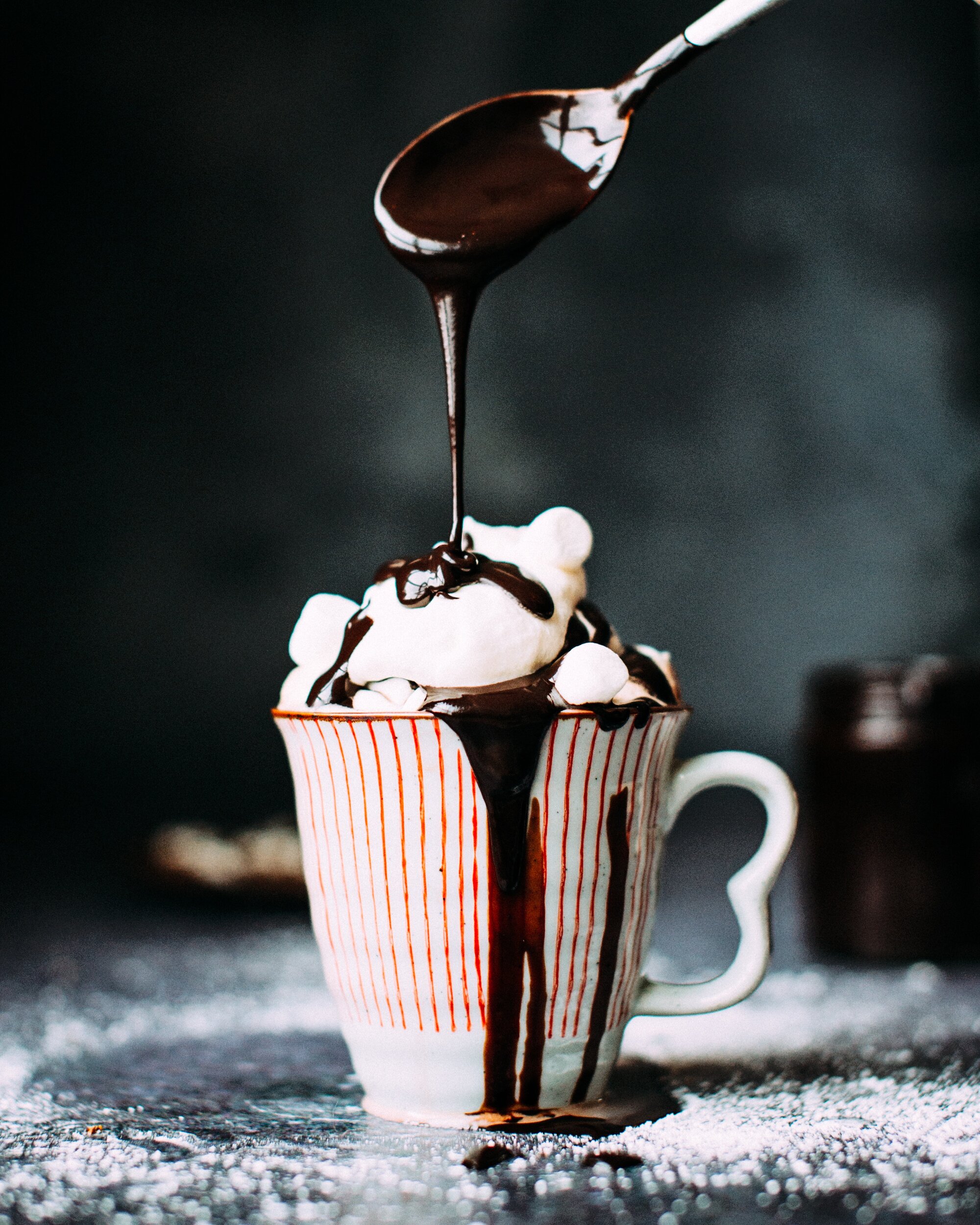 With Flickr or Wikipedia it looks a bit more complicated. With an almost unbelievable stock of 13 billion photos you can find the whole range of CC licenses here.
A little tip for image research on search engines: After entering a search term, you can filter for licenses. For example, you can only display images that are allowed to be used commercially.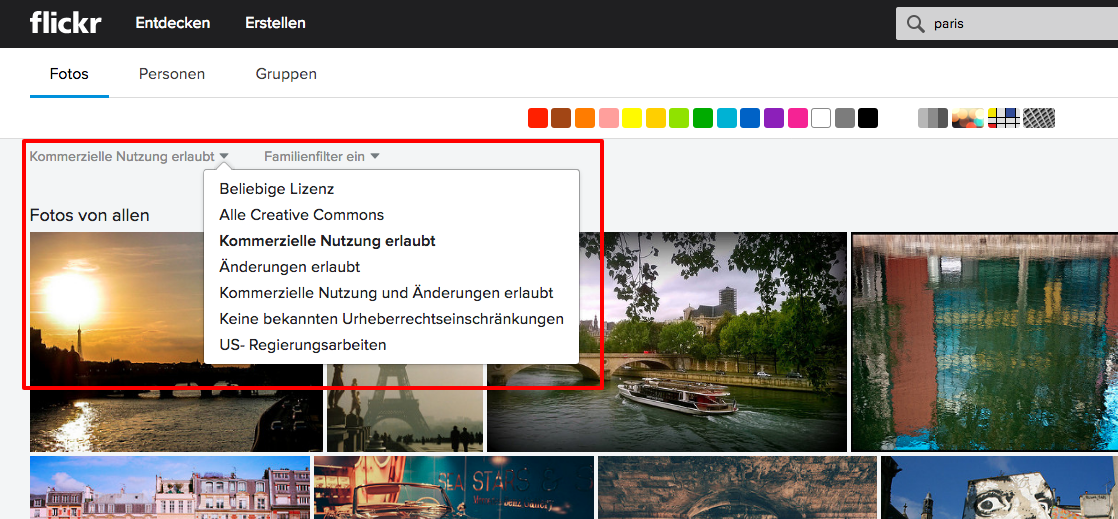 Screenshot from flickr.com
CC BY
Images under this license may be used commercially and freely edited. The only prerequisite is that the author and license are named and linked, and a reference to any changes made to the material is included.
free commercial use
free editing
Photo credit required
Link to the license: CC BY - attribution
Example: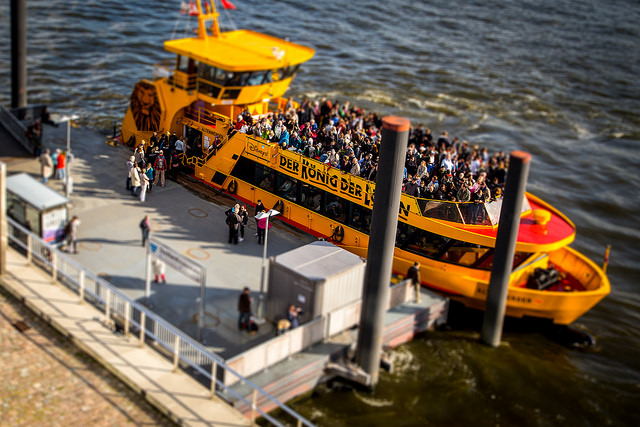 "Hamburg" by Carsten Frenzl, license: CC BY
CC BY-SA
Images may be used for commercial purposes and changed as required. Copyright and license must be attached appropriately. The special thing about this license is the Share-Alike-Module (SA). It means that an altered picture is under must be published with the same license as the original.
An example: A user finds an image with a CC BY license. So he can edit it and use it commercially. After editing, however, he puts it online under a license that would no longer allow commercial use. The Share-Alike module ensures that the license may not be changed and that the author's intention to use it is retained.
free commercial use
free editing
Photo credit required
Disclosure under the same conditions
Link to the license: CC BY-SA - attribution, sharing under the same conditions
Example: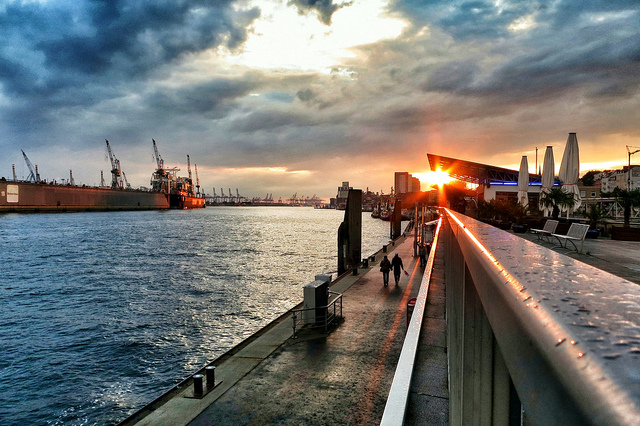 "Landungsbrücke (cc)" by Martin Fisch, license: CC BY-SA
CC BY-ND
The module "ND" (No Derivatives) prohibits changing the image material. However, there are some exceptions to the processing of image material that do not fall under this prohibition: The image format can be adapted to your own needs as long as the basic meaning of the image is retained. In addition, the image can be published alongside others in a kind of gallery or collection.
free commercial use
no editing allowed
Photo credit required
Link to the license: CC BY-ND - attribution, no editing
Example: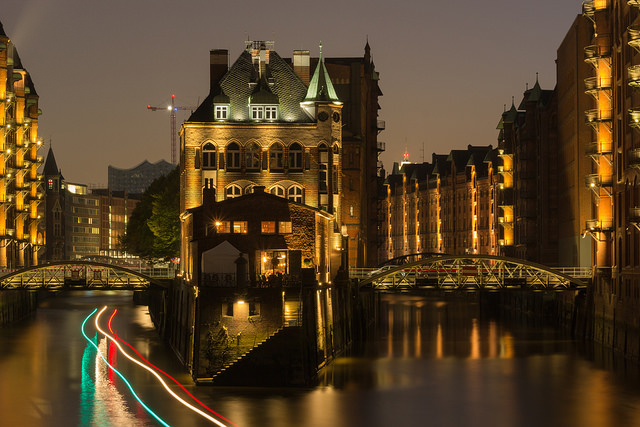 "Das Wasserschloss, Hamburg (282/365)" by trombone65 (PhotoArt Laatzen), license: CC BY-ND
Free royalty-free images for non-commercial use
The following CC licenses include the "non-commercial use" module, which begs the question: what is commercial? In general, any use that is primarily aimed at a business advantage or monetary compensation falls under this purpose. The publication of images on the company website is considered commercial. The same can also apply to blogs that are financed with advertising income, even if they only pay for the hosting costs and there is no real additional income. The legal situation here is not entirely clear.
CC BY-NC
No commercial use is permitted for images with this license.
no commercial use
free editing
Photo credit required
Link to the license: CC BY-NC - Attribution, non-commercial
Example: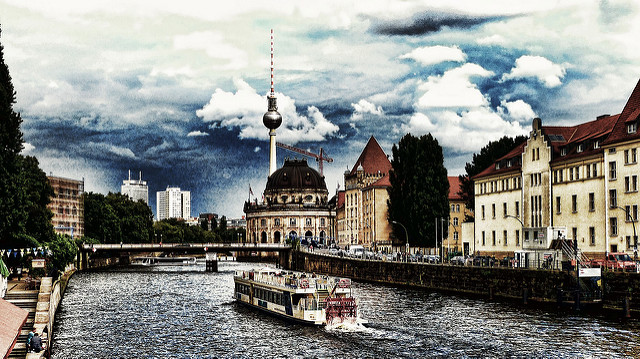 "Berlin view" by Mariano Mantel, license: CC BY-NC
CC BY-NC-SA
Images covered by this license may not be used commercially and must be published under the same condition.
no commercial use
free editing
Photo credit required
Transfer under the same conditions
Link to the license: CC BY-NC-SA - attribution, non-commercial, distribution under alike
CC BY-NC-ND
The terms of use for images with this license are severely restricted. They may not be edited or used commercially.
no commercial use
no editing
Photo credit required
Link to the license: CC BY-NC-ND - Attribution, non-commercial, no editing
Merge and edit multiple images with free CC licenses (compatibility)
If you want to edit images with CC licenses, you should pay attention to the compatibility of the individual licenses. Of course, all images with the ND license module are omitted here, as they exclude changes from the outset. The following graphic from Wikipedia provides a good overview of the possible combinations: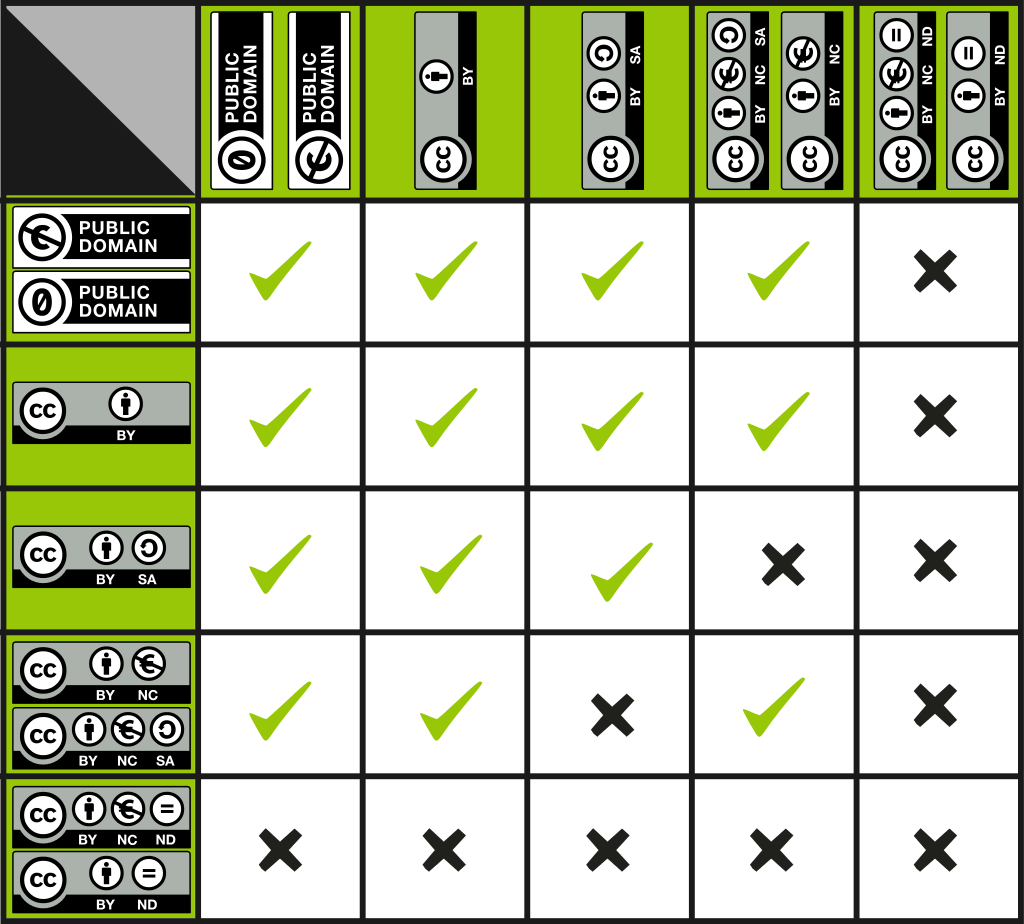 Source: Wikipedia, CC0
Royalty-free images and legal residual doubts
Despite knowing how to deal with CC licenses, there is unfortunately always a doubt, even with free images Legal certainty of the image material. The problem with this is that images can be uploaded anonymously to many providers' sites. So it can happen that you use a photo with a supposed CC license, although the picture is actually legally protected. Such cases rarely happen, but they do exist.
Images of people can also lead to problems, as the Personal rights of the persons depicted may not be adhered to. In any case, a model contract is required that specifies the duration and scope of use.
If in doubt, it helps to ask the author of a picture and, if anything is unclear, to refrain from using the picture material, however difficult it can be.
You can read more about image rights here: "Copyright for images: Your company must take this into account"
CGI vs. product photography
Download the free white paper now
Conclusion
We hope we could shed some light on the chaos of image licensing. In this way, you can safely use the perfect image in the future, even if it is under a complicated CC license has been published. Unfortunately, the use of licensed material is still very complex.
That is why we prefer to use the image databases presented above for free royalty free images (CC0 licenses) when we no longer recognize real people behind the Colgate smile on the stock photos.
And regardless of whether it is license-free or licensed: When you save images on your computer or on the company server, you should always make a note of the respective license. In this way you make sure that nobody in the company accidentally infringes image rights.
Other interesting articles:
How to skillfully choose images for Facebook ads

Johannes Greipl is Head of Design in Munich. His team includes specialists for all questions about brands and their visual design: from creative design and brand guidance to sustainable packaging concepts, packaging design and adaptations in series production.
Recommended articles