Canon printers how to refill ink
Refill Canon printer cartridges
Refilling Canon printer cartridges is possible!
On this website you can find out how to refill Canon printer cartridges with printer ink and which printer accessories are required for the different devices in order to enable uncomplicated refilling.
Do not be afraid of filling printer cartridges, millions of others do it too, because they neither agree with the outrageous prices nor with the throw-away mentality.
For years, the affordable Canon consumer devices have only contained cartridges with an integrated print head. The purpose of this technique is to prevent Canon printer cartridges from being reproduced. The print head is covered with an infinite number of US patents, so that the replica entails severe penalties. Even the market leader in copying and copying is keeping its hands off these cartridges. Canon regularly brings out new devices, in which there are always new cartridges that hardly differ from each other, but do not work in older devices. A slightly different design and different ink in the cartridges make refilling more difficult,
Canon uses individual ink tanks in the higher-quality devices. The advantage is that you only have to replace the cartridge that is actually empty. Since the protection against replica is no longer available, the ink tanks are equipped with chips. Learn how to easily refill these printer cartridges with ink and how to continue printing despite the information "Cartridge empty". For many devices there are transparent PermaPrint cartridges (refill cartridges) with automatic reset chips, which are very easy to refill and with which the device continues to display the fill level of the printer cartridges.
® All brand names, trademarks and registered trademarks are the property of their rightful owners and are used here for description only.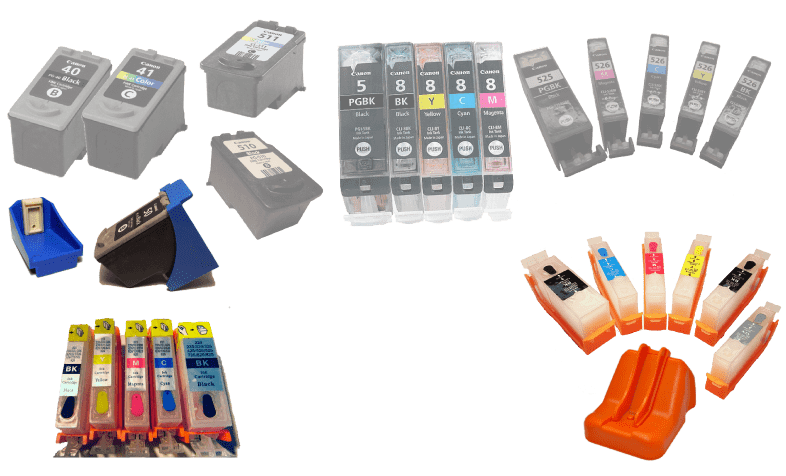 Who is so familiar with Canon printer cartridges here?
It's the man from TV. Here you can view the magazine articles, in which the tricks of the printer manufacturers are reported.
Videos on how to refill printer cartridges
N-TV,
Prosieben,
NDR,
ARD,
Sat 1,
WDR,
Cable 1
Info websites for other printer manufacturers.
Refill HP cartridges
Refill Epson cartridges
Refill Brother cartridges