Glitter and glamor party wear something
Glamor party
Everyone knows the term party, and most of them have also heard of glamor. If both terms combine to describe the glamor party, it is usually about a special event with lots of glitter, shine, "Klim Bim" and "Blitz / Blink".

Glamor mostly stands for elegance and extravagance, for stylish self-presentation in the best sense and for something that deliberately stands out from everyday life and average. A party motto in the glamor style is quickly proclaimed, but at this point we should be warned a little, because such an event places certain demands on the guests, the host, clothing, outfit, location or decoration, as can easily be seen at a so-called Great Gatsby party .
At a glamor party, the usual has no place, so the whole thing has to be unusual and that can sometimes be quite time-consuming and possibly expensive. If that doesn't put you off, please read on.
Table of contents for quick readers
Note: Glamor parties often take place on a specific occasion or have a special "sub-motto". Common mottos are, for example, well-known Hollywood films (see also Hollywood Party) or certain epochs of history such as Rococco, the 20s or the Venice of the Renaissance.
Such a basic tenor naturally makes the choice of clothing and decoration a little easier.
Interesting: We found that those people tend to organize and throw a glamor party whose lifestyle is more distant from this glittering world. People who come from this glittering world tend to feel more attracted to other party themes.
We conclude from this that for many partygoers a party is simply a place where you can slip into a different role than that of everyday life.
Glamor party invitations
Let's tackle it and take care of suitable invitations that are bursting with exclusivity. For this, self-printed cards and handicrafts, as well as meaningless emails are rather out of place. If you want to do it right, get away from it all and spend some money on really high quality and graceful cards.
A glamor party invitation must meet the following requirements:
Gold and silver heavy in terms of color
Impeccable and calmly overloaded design
Impeccable handwriting
Careful choice of words
Motifs such as a Golden Globe, an Oscar or the like are always a good match. Also make sure that the card has a lot of gold stars on it. This best reflects this party motto.
Clothing and outfits at glamor parties and glamor events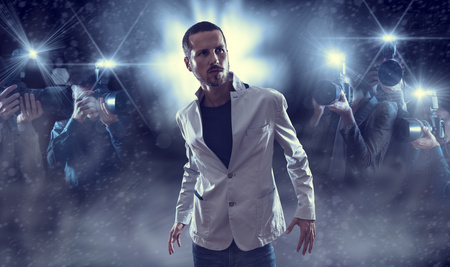 For every guest at a glamor party, the right outfit is of great importance, as you can finally get dressed up without attracting attention. "Overdressing", ie excessively conspicuous clothing, is almost impossible as it is more the rule than the exception.
High-quality materials, an individual style and the flair of a certain luxury are part of an ideal glamor outfit. However, trinkets and accessories in the "bling-bling style" should be avoided as they quickly appear cheap. If the clothing style does not have to be subjected to a special party motto, the focus is on individuality, your own very special style.
If you are still unsure what to wear to such a party, then stick to clothing that is made of velvet or silk, looks classy or has discreet lace. Long prom dresses with chic high heels are also a good choice, at least for women. With skillful hairstyling, a small tiara on your head can also be a good idea.
Styling tip for women: Goes with the make-up in accordance with the glamor party motto and uses gold and silver make-up and both lip gloss and glitter particles for the eyelids. Smokey eyes or metallic eyeshadows are also good choices.
For men, the classic and casual suit is the best choice. But make sure that it looks more relaxed than too cramped and stuffy. Guests at a glamor party usually celebrate themselves a little too, and choosing the right outfit can make a significant contribution to this. The motto here is: expressive and extravagant.
Decoration ideas for glamor parties
The decoration for the glamor party is another important point for a successful event. Regardless of any mottos, emphasis is placed on elegance, high quality and style. With the decoration you can make the difference and prove that you know what "glamor" really means.
Unusual table decorations as well as special light sources and stylish room accessories can contribute to this. If the party takes place under a certain motto, there are usually enough ideas for the design of the right setting. Without any annoying trinkets, impressive decorations can be created that emphasize the special setting for the guests.
Decoration idea 1: the red carpet
Do you want to apply thick? Then a red carpet is an absolute must. Place it either in the entrance area or even outside in front of the entrance, if you don't have to fear rain. Put up a few torches around it and the party guests will be enchanted and in the mood after getting out of the car.
Decoration idea 2: The VIP area
A glamor party without a V.I.P area is like a celebration without music. Set up such an exclusive area in your location, which is initially only reserved for selected guests. You can either open the entrance for guests who open for a few hours with particularly great outfits or offer tickets as a prize at party games.
Decoration idea 3: decorate the room
Decorating the location is really fun at a glamor party, because you basically never have too much of it and get into the area of ​​"decorating". All plants should be removed if possible, at least indoors. You can either keep the location in silver and white or choose gold and silver as the basic colors. For this you use the following decoration means:
Golden garlands
Confetti in gold and silver
Silver and gold metallic balloons
Golden door curtains
As kitschy and glittering mirror balls as possible
Put up the mirror
Decoration idea 4: table and chair decorations with "bling bling"
You can also decorate the tables stylish, glittering, pompous or kitschy. What is allowed is allowed here. A cheap way to make something out of normal chairs would be wrapping them with silver aluminum foil or covering them with red or gold covers. You can use matching tablecloths for the table and sprinkle some gold granulate on it. This granulate is also useful for the buffet table. You can also place ornate candlesticks. Only use high-quality dishes and cloth napkins for eating. Definitely not cheap paper napkins.
Decoration idea 5: light elements
Avoid everything that "flashes" too much or changes its color constantly. That fits in with a disco, but at the beginning it is completely unsuitable for this party motto. Uses light sources with care and in a very stylish way. Use candles and designer lamps and definitely use a disco ball on the dance floor. If you have laser and flashlight, this should only be used at a later hour, when there is a hilarious dance. Before that, it tends to ruin the mood.
Eat, drink and snacks at glamor parties
As in all other areas, special emphasis is placed on high quality with regard to the range of party food and drinks at a glamor party. When making your selection, you should rather focus on quality than quantity. Small bites and selected snacks made from high-quality ingredients such as salmon, caviar or nuts are ideal for this. They fit perfectly into the exclusive ambience.
Whether sushi platters or chocolate fountains, whether canapes or odeuvre - unusual combinations are also in vogue here. The quality of the drinks offered is also in the foreground in order to meet the high demands of the guests. Champagne in high-quality champagne glasses, sparkling wine and exquisite cocktails (see also cocktail party) made from high-quality ingredients are offered as well as cognac, whiskey or wines from special vintages.
If you have a food buffet, say goodbye to all the usual meals at a party such as pasta salad, sausages, french fries or meat plates. You don't fit into this motto at all. Prepares smaller platters of finger food, sushi provides appetizers. It should be clear that no one should fill their stomach here, but rather please the palate.
Our assessment
Glamor parties are an ideal opportunity for special events among like-minded people or just to immerse yourself in a glittering world that has so far only been known from television. Far away from the ballroom atmosphere and typical events with a touch of proletariat and bourgeoisie, these events offer the possibility of stylish celebrations. Always playing a little with the topics of luxury and elitist being, extravagance and individual style, glamor parties are special events that we have always felt comfortable at in the past. Seeing and being seen, staying in conversation and / or successful self-promotion are welcome side effects of these parties.
Quality instead of quantity is the primary motto of these parties, and the often handpicked guests appreciate that.